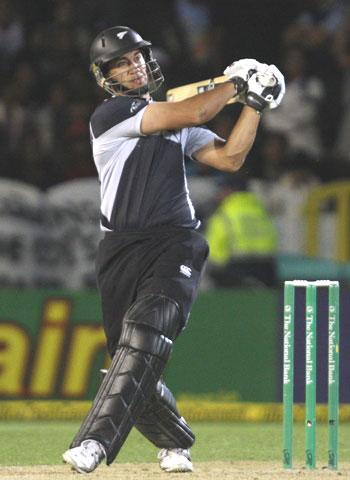 Ross Taylor's blistering 78 off 52 balls gave New Zealand a five-wicket victory over Bangladesh in the second One-day International and an unassaible 2-0 lead in the three-match series, in Dunedin, on Monday.
New Zealand, who won the first ODI by a thumping 146 runs, first restricted the visitors to 183 for eight in 50 overs and then knocked off the runs with more than 22 overs to spare. 
For the hosts, Brendon McCullum was out early again, cutting a ball on to his stumps. Martin Guptill was cleaned out by Rubel Hossain after a swift 32 just after the team's 50 was posted.
However, Peter Ingram and James Franklin provided perfect support to Taylor, who was finally snapped up by Shafiful Islam.
His innings included six boundaries and five huge sixes.
Earlier, Bangladesh's innings was boosted by a stubborn seventh-wicket partnership of 101 between Naeem Islam and Mushfiuqur Rahim, which brought some respectability to the scoreboard.
Put into bat, Bangladesh were off to a disastrous start yet again as fast bowler Andy McKay had Tamim Iqbal caught by McCullum in the second over of the match.
Later, the other opener, Imrul Kayes, was foolishly run-out from a Martin Guptill throw.
Darryl Tuffey was at his casual best to dismiss Mohammad Ashraful caught and bowled.
McKay struck again when Shakib Al Hasan played on to his own wickets.
Ian Butler, who started the match at the expense of Tim Southee, came into the attack and had Aftab Ahmed caught behind.
The third and final ODI is on Thursday.
Scorecard:
Bangladesh
T Iqbal c McCullum b McKay 1
I Kayes run out 9
M Ashraful c&b Tuffey 1
A Ahmed c McCullum b Butler 10
Shakib b McKay 0
Rahim lbw b Butler 86
Mahmudullah run out 8
N Islam b Butler 43
S Hossain not out 16
S Islam not out 1
Extras (b-2, lb-1, w-5) 8
Total (8 wickets; 50 overs) 183
Fall of wickets: 1-5,2-11, 3-14, 4-23, 5-25, 6-46, 7-147, 8-166.
Bowling:  D Tuffey 9-1-55-1, A McKay 10-3-17-2, I Butler 10-2-43-3, J Oram 7-1-24-0, D Vettori 10-0-25-0, J Franklin 4-0-16-0.
New Zealand
B McCullum b S Islam 9
P Ingram c Rahim b R Hossain 28
M Guptill b R Hossain 32
R Taylor c Mahmudullah b S Islam 78
J Franklin not out 20
N Broom lbw b S Islam 0
D Vettori not out 4
Extras (lb-3, w-9, nb-2)14
Total (5 wickets; 27.3 overs) 185
Fall of wickets: 1-9, 2-25, 3-100, 4-179, 5-180.
Bowling:  S Hossain 7-0-38-0, S Islam 7-0-49-3, R Hossain 9.3-0-68-2, Shakib 3-0-13-0, N Islam 1-0-14-0.