India had suffered a humiliating innings and six runs defeat in the opening Test against South Africa at Nagpur and it was time for some introspection.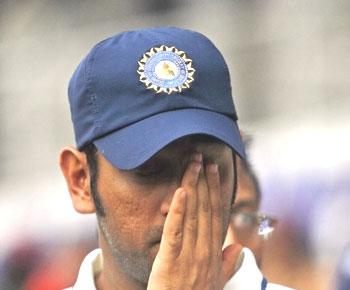 And trying to find answers for the question that is perennially asked after such results: What went wrong?
"We were blown away by Steyn," admitted Mahendra Singh Dhoni, as he settled down to answer the above query.
The South African speedster, with match figures of 10 for 108, had destroyed the famed Indian batting line-up on a track that wasn't too conducive for fast bowling and the Indian captain was acknowledging an effort that needed that.
"This was the best display of conventional swing bowling in India in the last few years. And full credit to Steyn for that," said Dhoni, adding, "He forced the batsmen to play the shots and confused them thereafter by moving the ball well both ways."
The Indian captain didn't hesitate to admit that his side had finished second best in all departments of the game but was quick to point out the period where he felt India lost the game.
"We were outplayed in all departments," conceded Dhoni, before adding, "I think the first few overs he (Steyn) bowled after tea on the third day made the difference.
"We were playing decently well till the ball got changed and luckily for them they were able to generate reverse swing with it.
"That doesn't take anything out of Steyn's effort. He had already bowled a few overs before the new ball was taken but still bowled his heart out," added Dhoni, effusive in his praise for Steyn.
The Indian captain also explained why his bowlers had failed on a wicket where the South Africans succeeded.
"We couldn't get the reverse swing going and then our fast bowlers were left with the dilemma: if to try and get the batsmen out or to contain them," reasoned Dhoni, refusing to accept that India missed the services of a fifth bowler.
"If four regular bowlers weren't effective how we can say that a fifth would have made a difference?" he asked, adding, "We definitely didn't have the luxury of a genuine allrounder like Kallis."
Dhoni added the absence of key players also hurt his side's prospects considerably.
"We definitely missed Dravid and Laxman," said the Indian captain, adding, "We went into the match with the best available side but it obviously didn't work for us."