"It was great to finish it today," said a relieved Graeme Smith, moments after South Africa had inflicted a humiliating innings and six runs defeat on India in the opening Test at Nagpur on Tuesday.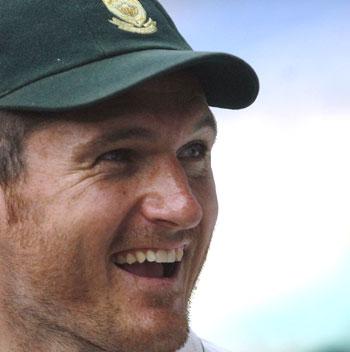 "The wicket was getting slower and the body was tiring. Coming in to play on the fifth day would have been difficult," he admitted. The South African captain said it was gratifying to win on Indian soil.
"Like I said before we had everything to gain," said Smith. "We know how tough it is to play here and how satisfying it is to get a victory. We got one in 2008 (Ahmedabad) and so we had to work just as hard.
"Good to see how happy the guys are in the dressing room and how much this means to them. We played positive cricket and in this two-match series we have taken the first step," he added. The South African captain admitted that winning a Test series in India was on top of his team's agenda.
"I think especially as a team we have achieved so much, series wins in England and in Australia. I think as a Test team this is one thing we want…to win here in India," explained Smith.
"It is a massive goal for all of us," he added.
The captain credited his team for coming through the recent crisis - that witnessed coach Mickey Arthur resigning weeks before this tour and the subsequent media backlash.
"From a personal perspective it has been a really tough few weeks, with some of the rubbish been written back home," admitted Smith, adding, "It is credit to the maturity the players have shown. It shows how much it means for them to play for South Africa.
"I think more from a team perspective the set-up had been there for the past five years and there were a lot of shifts and changes and everyone was just trying to find their feet and now we have settled down and again starting to focus more and more on our cricket."
The South African captain emphasized the need for playing the way a team believes in.
"We have been really clinical. It was important to play our style of cricket even though we also needed to adapt to the conditions here," explained Smith.
"So we used our bowlers in short spells and ensured they made an impact, every time they came in to bowl. And mental energy the guys have shown is excellent," he added.
Now that his team had successfully finished the assignment in Nagpur, the South African captain next focused his attention on the second Test in Kolkata.
"We need to start the next Test afresh," said Smith, adding, "What we need to do is to focus on the specifics and execute our game plan to perfection."