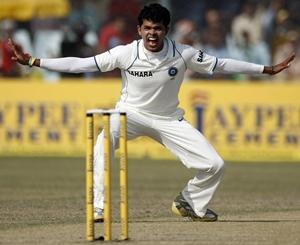 Injuries have hit Team India hard, ruling Rahul Dravid, VVS Laxman, Yuvraj Singh and S Sreesanth out of the ongoing first Test against South Africa in Nagpur. Their absence exposed the team's weak bench strength.
As India faces defeat in the Test, there's some good news on the bowling front. Pacer Sreesanth is back in the reckoning for the second Test in Kolkata after recovering from an injury.
"I have recovered from my injury and am fully fit now and raring to perform for India. To prove my fitness I will be playing for Kerala in a one-day game in the Vijay Hazare Trophy on Wednesday, February 10," Sreesanth told rediff.com.
Asked about his recovery, he replied: "I have trained at the National Cricket Academy in Bangalore to recover from the hamstring tear I suffered in Bangladesh last month."
South Africa boast of a talented all-round side, and have already underlined their strength with a convincing performance on the first three days of the Nagpur Test. But Sreesanth, who is confident of being selected for the Kolkata Test, is undeterred.
"It is a great opportunity to test my ability against a top side in Test cricket. We are the number one side in Tests and they are number two, so I don't expect it to be an easy outing for me.
"But I am ready to perform at my best and win matches for my country. When you do well against the top sides, it gives you so much confidence," he declared.
The 27-year-old Kerala pacer, kept out of the team following a spate of disciplinary problems in domestic cricket, stormed back into the reckoning in November after claiming a five-wicket haul that set up India's innings and 144 runs victory over Sri Lanka in Kanpur. That effort silenced all his critics.
But the smashing comeback was cut short by a hamstring tear against Bangladesh in the first Test in Chittagong last month. Thus, not surprisingly, he is desperate to make a mark again.
"I love playing for my country and, by God's grace, I hope to be selected again. If given a chance, I am ready to perform to my best and win matches for India," said Sreesanth, who turned 27 on Saturday, February 6. He chose the occasion to get involved in some charity work, spending the day at an orphanage in Bangalore.