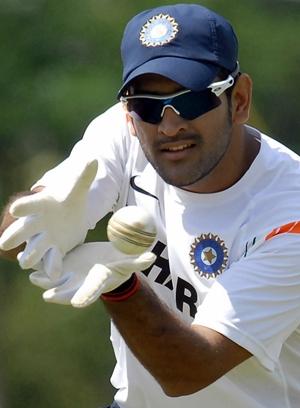 It is something any captain dreads the most: a Test defeat. And if he is on an unbeaten run, the fear factor worsens.
For Mahendra Singh Dhoni it was back to square one.
Asked to assume captaincy in the third and final Test against South Africa at Kanpur in April 2008 -- after incumbent Anil Kumble was ruled out injured -- Dhoni made a spectacular start, enabling India square the series.
"He made his debut as a Test captain against us," remembered Graeme Smith, his South African counterpart, adding, "And he was certainly more composed than I was when I made my captaincy debut at just 22."
In the 11 Tests he captained till the Nagpur Test, Dhoni conjured up an impeccable (read flawless) record, winning eight and drawing three.
It is imperative here to mention that he was out injured for a Test during India's tour of New Zealand and Bangladesh, and Virender Sehwag led the team his absence.
During this period Team India was remained undefeated in 14 Tests* and assumed the mantle of the No 1 Test team.
Coming into the ongoing series against South Africa, India were the favourites to begin with, considering the visitor's recent poor run of results and the resignation of their long time coach (Mickey Arthur) a few days before the team's scheduled departure.
But the home side's unbeaten run wasn't something that intimidated South Africa one bit.
"I'm not worried at all that they have won 14 Tests in a row," said coach Corrie Van Zyl, ahead of the opening Test.
"They have got to lose at some point and we hope it will be against us," he added.
Indeed, it was! The visitors won the opening Test comprehensively, by an innings and six runs, to end India's bid to break their previous record of most Tests matches without defeat -- 17 Tests between September 1985 to March 1987.
And Dhoni had to endure his first Test defeat as captain against a team that had given him his first win as well -- South Africa.
Dhoni was, however, stoic in defeat.
"We were outplayed in all departments of the game," he admitted later, adding, "We made many mistakes during this Test and hopefully, we will be able to learn from them."
A day after the defeat, the captain seemed to practice what he preached, leading a group of players to practice.
However, many of the other key members were conspicuous by their absence in what, a team official, later termed as "more of an optional practice".