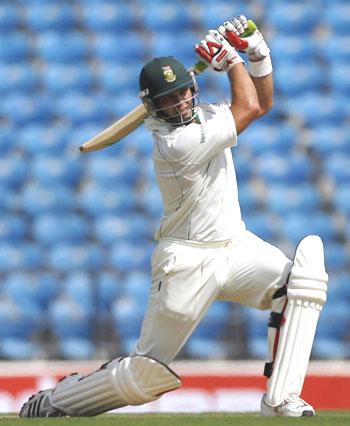 His impeccable record in all forms of the game defines his pedigree. With more than 10, 000 runs and about 250 wickets in both forms of the game, Jacques Kallis is undoubtedly the world's best all-rounder at the moment.
A total of 34 Test centuries further bolster his credentials as a player. The 34-year-old has also adapted well to the shortest and most recent form of cricket, the Twenty20, and is a vital and indispensable member of Royal Challengers Bangalore, the Indian Premier League franchise.
On his fourth trip to India, the South African made an immediate impact, scoring a magnificent 173 in the opening Test against India at Nagpur.His record 340-runs partnership for the third wicket with Hashim Amla was also the best by any pair on Indian soil.
Special Correspondent Bikash Mohapatra interacted with him on the sidelines of the Nagpur Test.
Excerpts:
You have been batting well recently
In the last couple of years I have been batting as well as I have ever done before. I have certainly worked hard on it. But you have to keep on improving.
The Twenty20 games have been brilliant for my style. They have given me an opportunity to take a step forward.
I'm really enjoying the way I am playing my cricket now.
How do you see your role as a senior player in this South African team? Does it mean an additional pressure?
As a senior player we all got to help the younger guys. Especially, when you have been to conditions where they haven't before. But the young guys in our team are good and adapt fast. They are intelligent enough to understand different conditions quickly and play according to it.
As regards pressure, there's always pressure on senior players. And certainly it is no different for any particular series. I have been under pressure for the last 10 years or so of my career. But it is something that you get used to very quickly.
Does this South African batting line-up suffer because it is over-reliant on senior players like you?
As senior players there is always going to be pressure on you to score the runs. That's why you are a senior player -- you score the runs more often than not. Having said that, some of the younger guys in our team have chipped in with big contributions.
AB (de Villiers) is a fantastic player. He knows he needs to get some big hundreds to make his mark at the big stage. JP (Duminy) is also doing well. He is learning his way up and he is an unbelievable player. And these guys are learning all the time. There's no doubt that they will an impact in the future.
Is it easier now to adjust to Indian conditions with more tours and the Indian Premier League happening?
Yes, definitely. A lot of the teams in the world have adjusted better to Indian conditions because of the IPL. They spend a lot of time in the sub-continent and all of that does help.
Also by playing alongside the Indian players, seeing how they are doing their things and how their mentality works, players all around the world are learning how to play well in Indian conditions.
Does the IPL help in reducing tension among players and increasing camaraderie?
It does. You get to know a player better. Sometimes you perhaps get a wrong idea of what a player is when you play against him all the time. But when you get to spend time playing alongside them, on and off the field, you get to realize that players are actually very different from what you had perceived.
How did you react when the ICC rankings mentioned Shakib Al Hasan as the world's best all-rounder?
I haven't played this game to worry about what the stats say or anything like that. I have just played cricket because I enjoyed playing it. So I am not at all worry about where I am ranked.
Does the same philosophy apply for your team as well?
We obviously don't play this game because we want to be no.1.We are worried only about playing good cricket. We want to win every series that we play in. And that will take care of our rankings.
Last year was a bit of a dampener in terms of performance, especially considering you were the No.1 ranked side for most of the year.
We didn't play particularly good cricket in 2009. Against Australia we lost the return series at home. We didn't play much Test cricket either last year. The way we played was definitely disappointing. But we know where we went wrong and have discussed the areas that we need to improve upon.
We have started off this year well (With a win against England in the fourth Test at the New Wanderers). So, hopefully it will continue.
Did beating Australia (in Australia) result in complacency?
They were definitely two major series -- the ones against Australia and England. And those are the ones we really worked for in the last couple of years.
But that goal has been achieved. We have struggled a bit after those wins but we have got to sit down now, work out some new goals and work towards what we would want to achieve going forward.
Is Australia still the best team in the world, considering it has been winning everything recently?
Look, every side wants to win every game they play. But it seldom goes as per plans. As regards Australia they have got some structure in place, right from the top to the bottom.
They have got some unbelievable players that they keep on producing. And obviously they have some good coaches and facilities. I think they have something pretty close to the full package that is needed to win consistently.
Your thoughts on the Umpire Decision Review System (UDRS)?
I used to be a big fan of the review system. But if you don't have everything available then you better not use it. Otherwise, it will just be a half measure.
I also believe you can cut it down from two reviews to just one. In the first review, most teams take a 50-50 call, especially if they need a wicket.
And the second one's use is almost waning, with teams preferring to play safe with just one left. So I think one is enough.
Finally, excess cricket is taking a toll on players the world over resulting in burnouts and lack of motivation. Your thoughts on the issue?
That is a worry, the amount of cricket played these days. It is also an overkill from the spectators' point of view. Certainly the players are tiring a little bit early and more matches do take a toll on the body. Also you don't get to spend much time away from the game. So players need to take care of their physical conditions, their fitness.
But this issue is definitely a big worry and certainly needs to be looked at.