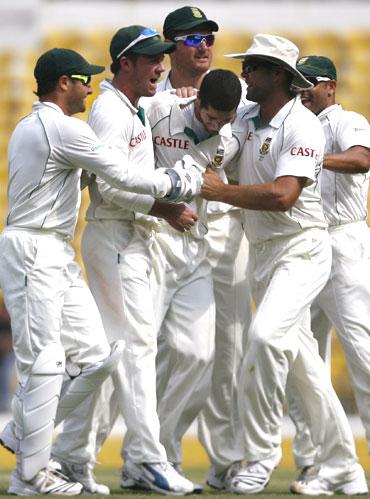 It was an ad hoc appointment but one that simply worked to an advantage. Corrie van Zyl was named the interim coach of South Africa following the controversial resignation of Mickey Arthur last month.
And his immediate challenge was a tough one -- a tour to India, a team that was riding on a 14-match unbeaten run. But the 48-year-old, despite the lack of time, decided to make the opportunity count.
So he encouraged his players to forget the controversies back home and concentrate instead on training hard.
The result, a resounding innings and six run win over India in the opening Test in Nagpur and one that happened inside four days. The South African coach was palpably elated at the achievement, while being cautious at the same time.  
"It is a perfect start," he gushed. "But I'm also realistic and understand is its not going to be easy from now on.
"The second Test is going to be tougher and we need to be adequately prepared for that," he added.
Coming in at such a short notice and getting the act together must have been tough. How did he adapt to his new role?
"My concerns, when I assumed the role of a coach, weren't team related but more regarding my new role," admitted Van Zyl, adding, "But I did know that it wouldn't be much difficult as I already knew most of the guys."
There was a challenge ahead of the tour though.
"My biggest challenge was to prepare the players in such a congested time to adapt to these conditions," said the coach.
"The key was to make sure that the player's mindset is right ahead of the series." Van Zyl admitted he was happy with the way his team had responded.
"I was telling the team and the management that I was pleasant surprised with the level of professionalism," explained Van Zyl, adding, "Obviously a lot of credit for this goes to Mickey (Arthur) and Kepler (Wessels) for the effort they put in to ensure this.
"But it definitely made my introduction in this team a lot easier," he added.
Being a fast bowler himself Van Zyl was impressed with the manner in which his bowlers carried about the plans.
"I think aggression in bowling is something that is part of our gameplan," he explained. "The bowling has to work as a unit and that makes it all the more effective.
"And every bowler has to understand well what his role is in this unit," added the coach. With Rahul Dravid and Yuvraj Singh ruled out of the tour, and VVS Laxman's participation tentative, does South Africa feel they have a better chance against this younger and comparatively inexperienced Indian side.
"When you start thinking in that way complacency creeps in," cautioned Van Zyl, adding, "The moment you think any player is lesser, you are actually making a mistake.
"So there will be no change in our strategy and preparation for the Kolkata Test."
The last occasion South Africa had toured India (in 2008) and got them into a 1-0 lead, they had had to play on a minefield of the wicket in the final Test at Kanpur -- one that they lost inside three days. Does the coach expect a similar wicket in Kolkata?
"It won't be a minefield but it will definitely help the Indian spinners better," opined Van Zyl, adding, "But mentally this side is certainly bettered prepared than what it was during the last tour."
The coach was very clear about his plan of action ahead of the Kolkata Test.
"I am trying to assess each of our players on an individual basis to ensure we achieve the objective we set out to," said Van Zyl.
"We are also going to see how the Indian team approaches this Test in terms of selection and plan accordingly," he added.