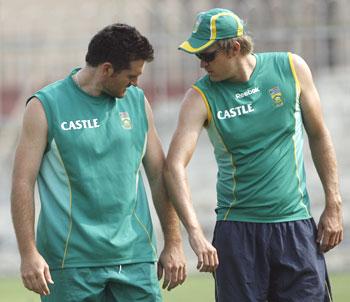 It will take more than just preparing a turning track to stop the high-flying South Africans in the second and final Test in Kolkata, believes AB de Villiers.
The visitors are high on confidence following the emphatic victory in the first Test -- by an innings and six runs. Interestingly, they faced a similar scenario in 2008, when they crushed the Indians in the first Test at Ahmedabad, but were undone on a turning track in Kanpur and the series ended 1-1.
But De Villiers pointed out that this time the team is well-prepared for any eventualities, having learnt from previous failures.
"We are not very worried about the pitch. Like I said, we are going to just focus on our game plans, and playing good cricket. How the pitch is going to play we don't know; the way the Indians are going to play we are not sure. We are just going to go out there and focus on our game plans to win 2-0," he said at the Eden Gardens in Kolkata, on Friday.
The right-hander said though the pitch has a good covering of grass, he is sure that by the time the match starts on Sunday, it will be barren and devoid of any.
"There is a little bit of grass on the wicket at the moment. I am pretty sure they will take off a bit of the grass in the next 48 hours. But it is up to the groundsman to decide and we have no control over that. We just have to focus on our skills and our basics. We had a wonderful training session and everyone is pretty much ready to give it the best shot," he added.
South Africa captain Graeme Smith's participation in the Test is in doubt after he sustaining a finger injury during fielding practice. But De Villiers said Smith has always led from the front and it won't be surprising if he makes it.
"I am pretty sure he will be alright, but it will be a big loss for us if he doesn't play. Obviously, he is one of those irreplaceable players, but I am pretty sure he will be fine. The way I know the captain, I am pretty sure he will be out there come the start of the first day," said de Villiers.
For the teams, it is not only about a series victory, but also a chance to claim the No 1 Test ranking. South Africa need to avoid defeat in the match, as a series win will see them grab the top ranking back from the injury-hit Indians.
But De Villiers clarified that the ranking is not the real motivation for them to win the series.
"We are not too worried about the ranking. Obviously, it will be nice to be number one in the world, but, at the moment, we are building and we are trying to dominate world cricket instead of trying to work ourselves to number one in the world.
"Obviously, the rankings change quite a lot and there is a lot that goes into it, but we are focussing on playing a brand of good cricket and win a series over here in India."
He also revealed the secret of South Africa's success in Nagpur and said the inputs from the senior players played a crucial role in getting a feel of the conditions.
"Credit has to go to guys like [Jacques] Kallis, [Mark] Boucher, Graeme [Smith] -- guys that have been here a few times before. We have had a few meetings where they have passed on their knowledge to the younger guys, like myself, by really giving away their game plans and things that have worked for them in the past. Our plans are pretty good over here.
"We are a fighting team, we never go down easy. We have that never-say-die attitude, and it is always very important in India to have that attitude and never to go down easy. We have got a lot of knowledge from the older guys and that is why we are doing so well over here," he said.
De Villiers said the team carried a lot of momentum from their victory against England in Johannesburg into the Nagpur Test.
"Cricket is all about momentum and confidence and we got some confidence coming from Johannesburg to the last Test match at Nagpur. We have won two in a row now. We are a well-balanced side; we were a well-balanced side in 2008 as well," he said.
The right-hander expects the Indians to come back pretty hard in Kolkata, but said they would stick to the match-winning formula that saw them win in Nagpur.
"It should be a great challenge here at the Eden Gardens, and I am sure they will come back with a big fight, so it should be a great Test match to watch.
"There is no need to change the game plan when we are winning Test matches. We have won two in a row now and we have got our plans set. We have a solid bowling attack, a solid batting attack, we are playing solid cricket at the moment. We have got a nice game plan in the subcontinent and we have been doing well. We will stick to it and, hopefully, we will come good."