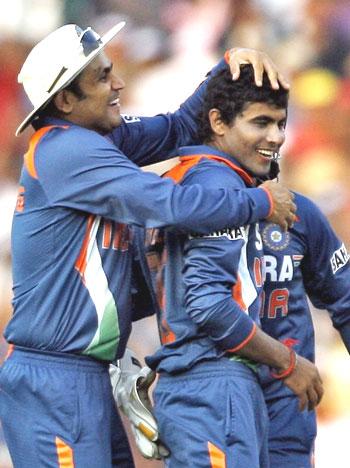 Rajasthan Royals all-rounder Ravindra Jadeja will miss the third edition of the Indian Premier League after being banned for one year by the IPL governing council for breaching players guidelines.
The Saurashtra player did not sign the renewal contract with the inaugural edition champions and was trying to negotiate a lucrative contract with other IPL franchises.
Jadeja tried to sort out the matter by talking to Indian Cricket Board President Shashank Manohar but his appeal was rejected and IPL slapped a one-year a ban on him.
"Based on a unanimous decision taken by the IPL Governing Council and on instructions from the President of the BCCI, India cricketer Ravindra Jadeja was handed out a one year playing ban. He will not be allowed to play for any IPL team for the next one year," IPL said in a statement.
"The ban was on account of Ravindra Jadeja not signing the renewal contract with the Rajasthan Royals and attempting, instead to negotiate a larger financial contract with some of the other IPL franchises. Thus, resulting in a serious non-adherence to the IPL player guidelines," it said.
IPL Chairman and Commissioner Lalit Modi warned players that the T20 League will not tolerate any blackmailing.
"The player guidelines laid out by the Governing Council of the IPL are sacrosanct and all players will need to strictly adhere to the same. We will not tolerate any player playing games or blackmailing any teams or the IPL/BCCI in any manner," Modi said in the statement.
"The IPL Governing Council has arrived at this decision after due deliberations done after taking into account Ravindra Jadeja's presentation to the President of the BCCI (Shashank Manohar) and a further representation by the Rajasthan Royals," Modi explained.
The punishment meted out to the 21-year-old all-rounder is expected to impact his immediate future as a Twenty20 player.
The one-year ban has put a question mark on Jadeja staking a claim in the Indian team at the April 30-May 15 T20 World Cup, to be held in the West Indies, as performance in the IPL would form a strong basis for selecting the squad.
The third edition of the IPL is slated to begin from March 12 in Mumbai.