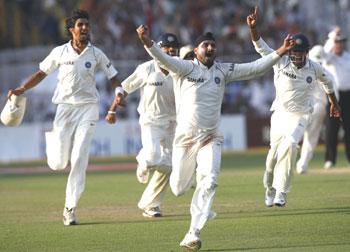 His wild celebrations just below the press box after taking the final South African wicket said it all.
Harbhajan Singh was an angry man coming into the second Test in Kolkata. India were crushed in the first Test by an innings and six runs, and the off-spinner was blamed by some sections of the media of not living up to his top billing.
But, on Thursday, he turned it around in style with a match-winning performance, claiming five for 59, as India routed the visitors by an innings and 57 runs and levelled the two-match series 1-1 to retain the number one ranking in Test cricket.
And, quite rightly, Harbhajan took the opportunity to take potshots at those who doubted his credentials coming into the match, largely television channels.
"I have been hearing a lot of things from them, but today they were on the receiving end. They should be getting that kind of treatment because they should know what to play on national television and what not to play.
"We play for our country with a lot of passion and it disappoints all the players sometimes to see what characters they make out of us. If I don't do well on the ground they will show us as three idiots and Harbhajan as one of the idiots, Mahendra Singh Dhoni the other. That is not right; I know it sounds funny, but it is not. It is a shame and it should not be done," Harbhajan said.
"But if that is the way you want to sell your programmes we are not worried about that. I was there for a bigger purpose. I was playing for my country, which was more than anything for me. I won a game for my country and that is a special feeling. I am sure the whole country is happy today," he added.
The 29-year-old also thanked former bowling partner and India spin legend Anil Kumble for his help ahead of the Kolkata Test.
"He [Kumble] just told me, 'Be the way you are and you will be bowling well. You have taken 300 plus wicket and it doesn't come through fluke. You know what you can do and I have played so much with you. You just have to be confident and it is just a matter of time before you will get the wickets.' " 
"He was pretty much right. I would like to give him big thanks for the advice... and even on the field settings ... that for particular batsmen like Jacques Kallis I should have a particular kind of field. Thank you Anilbhai for helping me out," he said.