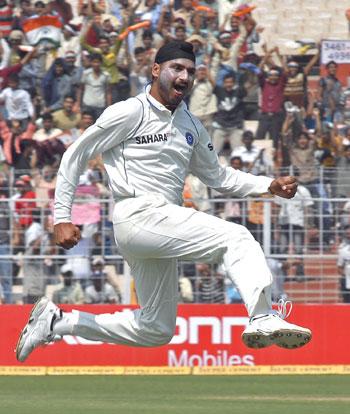 Harbhajan Singh claimed five wickets for 59 runs as India beat South Africa by an innings and 57 runs on a thrilling final day in the second Test to level the two-match series 1-1 and remain the number one Test team in the world.
The packed house at the Eden Gardens in Kolkata burst into celebration as the Proteas were dismissed for 290 in 131.3 overs in their second innings late in the final session of the day, with Hashim Amla left stranded after scoring his second century of the match.
Amla, later adjudged man of the match and series, was the only South African batsman to provide some resistance. He was left unconquered after a stubborn knock of 123 from 394 deliveries, that lasted 499 minutes and included 16 boundaries, his third hundred on the trot in three innings in the series.
The right-hander was dismissed just once in the series, aggregating 490 runs. He scored 253 not out in the first Test in Nagpur, which South Africa won by an innings and six runs, and 114 and 123 not out in this Test, and was rarely troubled by the Indian bowlers right through.
Harbhajan claimed the final wicket -- that of Morne Morkel, who battled for 60 deliveries in scoring 12 runs. He was trapped leg before wicket and South Africa's resistance ended with just nine deliveries to spare.
Earlier, Ashwell Prince frustrated the Indians for 123 minutes, scoring 23 in 80 deliveries, before he was caught by Ishant Sharma off Harbhajan Singh.
Mishra then foxed AB de Villiers with a googly to trap him leg before wicket for 3 and help the hosts end the first session on a high.
Harbhajan then dashed South Africa's hopes of saving the match by trapping JP Duminy (6) and Dale Steyn (1) leg before wicket.
Morning session: (49 runs, 35 overs, 2 wickets)
Zaheer Khan was not fully fit on day four and India's worst fears were confirmed when he did not take the field in the morning session. The attack was thus reduced to three bowlers.
Amla completed his fifty, off 90 deliveries, with a single on the off-side, in the 39th over of the innings. It included seven boundaries.
The first hour on day five went according to plan for South Africa, as they successfully kept the Indian bowlers at bay, despite scoring only 19 runs in 14 overs.
Even Harbhajan Singh headed into the dressing room after the first hour and Sehwag took over from the pavilion end, chipping in with a few overs. The spinners got a lot of help, but the slow nature of the pitch meant that the two batsmen had enough time to adjust.
Mishra toiled without success before senior partner Harbhajan took over from the High Court end. The move paid off. Finally, after nearly two hours on the final day, India made the breakthrough. Harbhajan got the wicket of Prince, caught at mid-off by Ishant. The batsman was out after a stubborn innings of 23 from 80 deliveries, having stayed at the wicket for 123 minutes. (158-4, 61.4)
One wicket resulted in another. AB de Villiers scored just three before he was foxed by a googly from Mishra; he played down the wrong line and was trapped plumb leg before wicket. (164-5, 68.1)
After a frustrating two hours, India ended end the session on a high, with two wickets in the last half an hour of the session.
At lunch, South Africa were 164 for five in 70 overs. The Indian spinners toiled in the session and piled on the pressure, giving away just 49 runs in 35 overs, and were rewarded with two wickets.
Amla now holds the key for South Africa. He was unbeaten on a solid innings of 68 from 197 deliveries, inclusive of nine boundaries. He has now scored 435 runs in the series, and been dismissed just once.
Post-lunch session: (86 runs, 29 overs, 2 wickets)
Harbhajan struck in the fourth over after the break, trapping J P Duminy leg before wicket for six. The left-hander played back from the crease, but was beaten by one that did not turn much and was caught plumb in front of the stumps; it ended a miserable series for him. (172-6, 74)
Harbhajan had tasted blood now, and a couple of overs later bagged his fourth wicket of the innings. This time, he came round the wicket and the move worked; he trapped Dale Steyn leg before for 1 as India inched closer to victory. (180-7, 78)
Harbhajan had bowled an important spell on either side of the lunch break, taking three for nine in a spell of 13 overs, including eight maidens.
India opted not to take the new ball after it was due, since they only had the services of Ishant Sharma; but realizing that the old ball had become soft, they went for the new one in the 91st over.
Amla hit Ishant for back-to-back boundaries through the leg side to move into the 90s in the 91st over.
Ishant should have had a wicket in the first over with the new ball but substitute Suresh Raina dropped Wayne Parnell (14) at wide fourth slip.
In the next over, the 93rd, Amla hit Mishra for two more boundaries to bring up his third century in three innings in the series. It took him 268 deliveries to reach the milestone -- his second century in the Test -- and included hit 13 boundaries; he was the only one standing between India and victory.
Interestingly, India coach Gary Kirsten had also achieved the feat for South Africa, scoring 102 and 133 against India at Kolkata in 1996-97.
Buoyed by the lifeline he got, Parnell rubbed some salt on India's wounds, hitting Ishant for two boundaries in the 97th over.
At tea on the final day, South Africa were 250 for seven in 99 overs, reducing the deficit to just 99 runs, with just one session to play.
Amla was superb as he remained unbeaten on 106, having hit 14 boundaries in his 289-ball knock. He thwarted the Indian bowlers for 371 minutes.
Parnell, dropped once, was not out a vital knock of 22 from 56 deliveries, the two batsmen having added 70 runs for the eighth wicket.
India have another 34 overs in the final session to force a result and keep the number one ranking. For South Africa, it is about one more session of playing with concentration and focus.
Post-tea session: (39 runs, 32.3 overs, 3 wickets)
India piled on the pressure and sent down three straight maiden overs after the break. The pressure paid off, as Parnell hit one straight to Harbhajan at short mid-on after a good innings of 22 from 64 deliveries; he spent 102 minutes at the wicket and was involved in a 70-run partnership with Amla. (250-8, 102.2)
The fielding once again let India down, this time the offender was S Badrinath. Paul Harris played one in the air on the leg side in the 104th over, but Badrinath, at short leg, failed to hold on and Harbhajan's anger was quite evident.
The absence of Zaheer was being severely felt as Ishant had to come and bowl short spells regularly. Amla continued to frustrate the bowlers as he took singles of the fourth or fifth delivery, leaving Harris to do very little.
Ishant was hit for a boundary each by Amla and Harris as South Africa reached 262 for eight in 109 overs, still needing another 85 runs to avoid defeat, while India had 24 overs in hand.
However, it was Ishant who brought India closer with the wicket of Harris. The right-hander was forced to play at one outside the off-stump, and he edged it behind and was taken by substitute Dinesh Karthik at third slip. He was out for four from 24 deliveries. (264-9, 110.5)
It was just a question of survival for South Africa as India bowled a cluster of maiden overs, with seven runs coming in ten overs. South Africa reached 269 for nine after 118 overs, needing to survive the last 15 mandatory overs or the last hour of play. For India, it was the question of that one last wicket.
The final session was turning out to be nail-biting, as Dhoni kept rotating his bowlers, even bringing on Sachin Tendulkar for a few overs. But getting past Morkel and Amla was proving to be difficult.
With just two overs left, Harbhajan was re-introduced from the High Court end. It was India's last throw of the dice. And the move worked, as the ace off-spinner dismissed last-man Morne Morkel leg before wicket after a patient innings of 12 from 60 deliveries.
Amla was left stranded on a splendid 123, inclusive of 16 boundaries, off 394 deliveries. He was at the wicket for 499 minutes. South Africa were dismissed for 289 in 131.3 overs and lost the match by an innings and 58 runs.
Amla and Morkel nearly saw the tourists to a draw. They survived 76 minutes while playing out 126 deliveries to score 25 runs till Harbhajan ended their resistance nine deliveries from the end.
Harbhajan finished with remarkable figures of five for 59 in 48.3 overs; he claimed three for 64 in the first innings.
Leg spinner Mishra also chipped in with vital wickets, claiming three for 78 in 40 overs, while Ishant bowled his heart out for figures of two for 84 in 25 overs.
In the end, it was a deserving victory for the home side. The drawn series helped them retain the number one ranking. A pity that we had just a two-Test series.