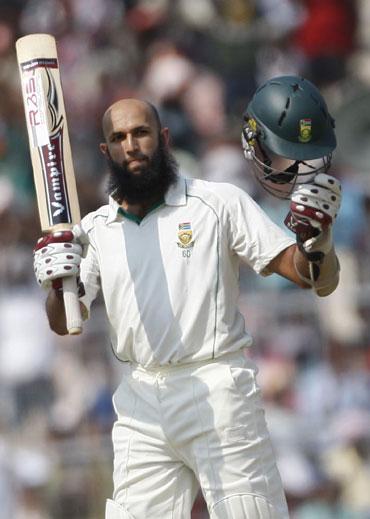 South African run-machine Hashim Amla said every batsman hits a purple patch at some point in his career and the just-concluded series against India was his opportunity to make a mark.
"Every professional cricketer goes through certain tours and series where they excel. I have just been fortunate this tour has been my opportunity," said Amla, who was adjudged both Man-of-the-Match and Man-of-the-Series for his staggering 490 runs in the series, including two centuries in the second Test.
The humble South African top order batsman of Indian origin said circumstances and the butter-fingered Indian fielders helped his cause as well.
"Things have worked for me on the field. I give credit to the fortune. Dropped catches really helped the cause," he said.
"I think I have been quite fortunate on quite a few occasions, without doubt. Few dropped catches here and there, I could have been dismissed before," he said.
Amla spent more than eight hours in the second innings and nearly saved the match. The Indian bowlers simply could not find a chink in his armour.
He said he follows a simple batting philosophy. "When at the back of your mind you know you have to bat a whole day, breaking it down is the key. Ball by ball, over by over, it's just the basics. There is no science to it; I just wanted to keep it simple," he explained.
He also hailed the efforts of Morne Morkel (22) and Wayne Parnell (12), who were two pillars of South African resistance in the second innings, thwarting the Indian bowlers.
"I took a lot of confidence from Morne and Parnell. Both told me that they were comfortable at the other end; it made by job a lot easier in trying to find the strike," Amla said.
"I just love the experience the intensity of the series was really fantastic. We all enjoyed it," he added.