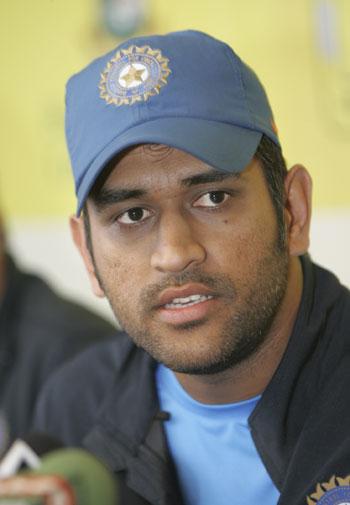 After a gripping Test series, India and South Africa now challenge each other in a different format, when they face-off in a three-match One-day International series starting in Jaipur, on Sunday.
If the recently concluded two-Test series was a battle for the top Test rankings, the One-Dayers would see the two teams battle it out for the number two rankings.
World champions Australia are comfortably placed at the top with 134 points, India (121) and South Africa (119) would fight it out for the second place.
Hosts India are once again hampered by injuries with key players like Gautam Gambhir, Yuvraj Singh and Zaheer Khan unavailable because of injuries, while Harbhajan Singh would miss the first two games because of his sister's marriage.
For South Africa, captain Graeme Smith is only the big absentee following his finger injury, which he sustained during the Test series and had to return.
The India captain, however is confident his team can do well in the series despite the injuries and is hoping the youngsters can prove their worth.
"The morale of the team is good. As far as missing a few players is concerned, every series we are missing some player or the other.
"It is a good opportunity for young players to prove that they belong to the international level and at the same time you get the chance to test your bench strength too," Dhoni said on the eve of the match.
India would be hoping to build on the momentum following their thumping victory by an innings and 57 runs in the second Test in Kolkata, while South Africa would be hoping to get off to a winning start.
But he still expects the Proteas to bounce back hard after their crushing loss in Kolkata especially with the inclusion of a few limited overs specialists in Albie Morkel, Loots Bosman, Herschelle Gibbs and Roelof van der Merwe.
"Of course any side can challenge any side in the world. It is all about how you play on that particular day and your players should be in form and you should not have any injury concerns and you have to do well in all departments.
"The South Africans are very even balanced side. They have good fielders in the side and have good bowlers and batsmen who can capitalize. They are a very good side and we are expecting three very good one-dayers," the India captain said.
With leading bowlers Harbhajan and Zaheer unavailable India's bowling has weakened considerably. Ashish Nehra, having played just 97 ODIs since making his debut in 1999, is the most experienced bowler in the lin-up and will lead the attack.
But the hosts are confident that the young bowling also comprising of S Sreesanth, Praveen Kumar, Amit Mishra and uncapped R Ashwin has what it takes to unsettle the Proteas.
"If you see Praveen he has not got the pace. He is not an express but he is a street smart cricketer. The change in length, speeds and the variation that he has got and the amount of cricket that he has played really helps him.
"At the same time Ashish Nehra is also an experienced cricketer and has been around the circuit for a long time so it helps when you have one experienced guy like him.
"If you see our bowling department right now it is not a very experienced bowling line up so Ashish will definitely have an effect on other when it comes to grooming other bowlers and suggesting what can be done on a wicket like this.
"Apart from that Jadeja has played a few games and we have Ashwin and Mishra also. I think the bowling strength is decent. But if you compare it to Zaheer Khan or Harbhajan Singh who would be missing the series it is very big but at the same time it is up to the individuals how they shape up for the game," Dhoni said.
The two teams last played in a bilateral ODI series in December 2006 when hosts South Africa blanked India 4-0 with one match washed out due to rain. Infact, South Africa is yet to win ODI series in India in three attempts, losing in 1991-92 and 1999-00, while the last one in 2005-06 ended in a 2-2 draw.
The large number of all-rounders in the team would be a big help on a wicket expected to be full of runs, believes Dhoni.
But all Indian skipper wants is a fast bowling all-rounder someone in mode of Jacques Kallis, who believes will make for a perfect all-rounder in Team India.
"You can say we have quite a few batsmen who can bowl. We are still searching for the perfect all-rounder, a fast bowling all-rounder, because it balances the team combination.
"In this side it is good that we have batsmen who can bowl like Virender Sehwag, Abhishek Nayyar, Yusuf Pathan, Ravindra Jadeja and Suresh Raina. So we have quite a few batsmen who can bowl so  there is some extra help in case one of your regular bowlers is struggling a part-timer can make up for it." he said.
Despite having more pressure on him to contribute as a batsman in the absence of Gautam Gambhir and Yuvraj Singh, Dhoni says he would still continue with the extra burden of wicketkeeping.
"I am not a very good fielder so you wont see me do that [not keeping wickets and just fielding]. We will play with the best side. Dinesh Karthik is anyways a better fielder than me so it is always better when we both are playing that I keep wickets and he fields because that ways the overall strength of the team remains good," he said.
The India captain is also expecting dew to play a part in the second half of the match and believes it will help the team batting second.
"As far as the wicket is concerned it is a normal sub continental wicket. The dew will also be a factor because it is cold in the evenings, which results in a lot of dew. So spinners would find it difficult in the latter part of the match," he added.