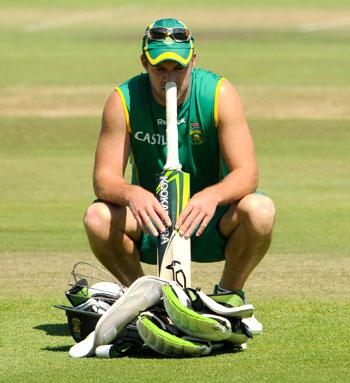 Making an assessment is a tough task, particularly when the results aren't on expected lines. In the case of South Africa it is all the more inexplicable.
A series that started on an emphatic note is ending with a whimper. But the team seems to have assuaged itself with a valid reasoning.
"I would say there is not much wrong with our team," explained AB de Villiers, adding, "It is just that the Indian team has raised the bar in the last few games. We have learnt our lessons the hard way."
The 25-year-old batsman, who has been one of the success stories for the visitors on this trip, was quick to do an elaborate explanation.
"There can be no excuses given for our shoddy effort because we are quite experienced players," he said.
"But the senior guys, myself included, didn't take the responsibility that they were supposed to take and the Indian team sensed their chance.
"And in India you should never allow the home team an opportunity to come back," De Villiers added.
The Delhi Daredevils' player was a tad philosophical regarding the eventual result.
"It hasn't been the best trip at all. But drawing the Test series was a good effort though after our loss at Kolkata everyone seems to have forgotten about our win at Nagpur," lamented De Villiers.
"Not much has gone our way thereafter.
"We could have finished the first one-dayer at Jaipur but our top order failed us. At Gwalior, Sachin took the game away from us. But we want to finish the tour on a high note," he added.
De Villiers was categorical about the significance the final one-dayer at Motera has for his side.
"We have got a lot of pride to win back in the final match tomorrow," he said.
"A 2-1 scoreline sounds a lot better than 3-0. It is all about confidence and momentum," he added.
The South African was, however, confident that his team will work things out ahead of the World Cup, less than a year away at the same venue.
"We have lots of time to prepare for the World Cup. And I have a feeling that we'll get things right in that time," he concluded.