The ghost of match-fixing has returned again to haunt the Pakistan cricket team, and this time it is wicket-keeper batsman Kamran Akmal who seems to be under its glare.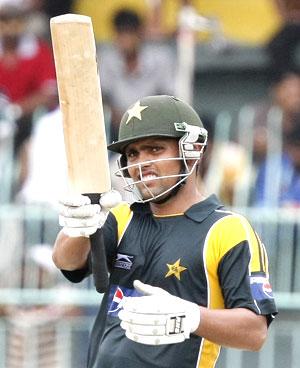 Insiders said that the selectors had axed Akmal from the two T20 match series against England in Dubai, over suspicions that he deliberately dropped catches during the second Test match against Australia in Sydney.
Pakistan was in a commanding position in the Sydney Test match after bowling out Australia for a paltry 127 in the first innings but lost the match amazingly by 36 runs losing all wickets while chasing 176 runs.
"He (Kamran) is a suspect. Otherwise how can you leave out a player who had scored 64 from 33 balls against Australia in his last match," The News quoted sources in the Pakistan Cricket Board (PCB), as saying.
Sources said Akmal may be sidelined for the forthcoming ICC T20 World Championship, which is scheduled to be held in the Caribbean in May, if he fails to clear his name from the allegations.
This is not the first time that a Pakistani cricketer has been suspected of match-fixing.
Last October, National Assembly's sports committee chief Jamshed Dast accused the Pakistan team of deliberately losing to Australia to knock old rivals India out of the Champions Trophy in South Africa. However, the committee later cleared the team of any wrongdoings.
In 2000, former Pakistan captain Salim Malik and medium pacer Ata-ur Rehman were found guilty of match-fixing by Justice Malik Qayyum. They were both banned for life following a year long investigation into the allegations.
The inquiry was launched in response to charges of betting and match-fixing against several of Pakistan's top cricketers, including former captains Wasim Akram and  Salim Malik, spinners Saqlain Mushtaq and Mushtaq Ahmed, and middle order batsman Ijaz Ahmed.