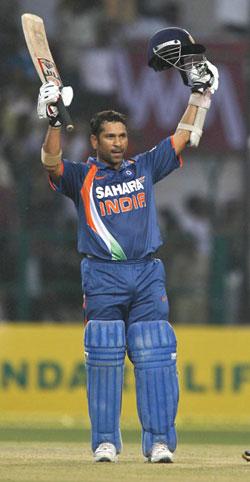 It's his dedication and passion for cricket that sets Sachin Tendulkar apart, India's only World Cup-winning captain Kapil Dev said in Kolkata on Thursday.
Speaking at a promotional event at Ravindra Sarovar in Kolkata, Kapil Dev heaped praise on Tendulkar for getting to 200, the highest score in One-day format.
"Tendulkar is sincerity personified. He has made sacrifices in his life, there is a lot of dedication involved and he is very passionate about achieving something," said Kapil Dev.
"He is like us but it's his mental toughness that sets him apart.
"He knows what exactly he is doing and he is strongly determined and focussed. He will bring more laurels to the country," he added.
Sachin is a phenomenon, says Ganguly
Congratulating Sachin Tendulkar for becoming the first batsman to score a double century in limited overs cricket, former India skipper Saurav Ganguly on Thursday termed the batting maestro a "phenomenon".
"I have not seen (Don) Bradman playing cricket. I have played with Sachin and he is a great batsman and I have not seen a player like him," Ganguly, who is leading Bengal in the Vijay Hazare One-day knock-out tournament, said.
"Sachin is a phenomenon and a great cricketer," he added.