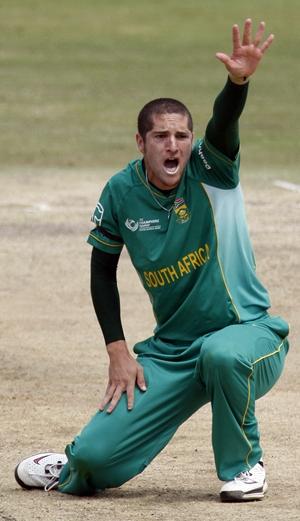 The Wayne Parnell saga started at the under-19 World Cup in Malaysia (2008), where he took 18 wickets, made decent contributions with the bat and helped South Africa reach the final.
A national call up followed soon after. During South Africa's tour Down Under in January 2009, he first made his T20 debut (at Brisbane) and then went on to make his one-day debut (at Perth).
Despite failing to impress, he had the backing of the selectors and vindicated their faith by picking up nine wickets at the T20 World Cup in England.
And when South Africa hosted the Champions Trophy last October, Parnell, with 11 wickets, was awarded the golden ball as the tournament's highest wicket-taker, this despite the fact that the hosts had failed to make it past the group stage.
A couple of wickets on Test debut, against England at Johannesburg, was an effort good enough to convince bosses in the Indian Premier League (IPL) Delhi Daredevils' side to invest a whopping $ 610, 000 to secure the services of the rookie.
In a candid conversation with Special Correspondent Bikash Mohapatra, the 20-year-old talks about his sudden rise in the ranks in the South African side, his experiences on his maiden tour to India and, of course, the IPL.
How do you assess your maiden trip to India?
Coming here was really tough. Even if you are the best side (like say when the Australian team comes here on tour), it is really tough touring here.
But if you are playing sports at the highest level, it's about adapting to various conditions and that is probably the most important thing.
And if you handle pressure well in this situation you can pretty much do well around the world.
For a bowler who made his debut in Australian conditions, how difficult has it been to adjust to the placid Indian wickets.
Australian conditions are similar to those in South Africa while the Indian conditions are not that conducive. So you have to try out some variations and hope they work to your advantage. Basically, in India, you have to be a smart bowler.
Obviously, it has been a nice challenge for me and, hopefully, it will help me in the future.
You batted quite well in Jaipur...
In my younger days I actually batted fourth, playing in under-19 cricket and in the school and provincial level.
Then, obviously, my left arm seam bowling took over and now I am playing more as a bowler.
But I have been working hard with my batting, and at present Kepler (Wessels) and Corrie (Van Zyl) are guiding me.
And when I get an opportunity to show the world I can deliver with the bat as well, I try to do so.
You became part of the South African team at an early age. Did you expect the national call up to happen so fast?
Not really. I wasn't expecting to be playing in international cricket at this age. I had just thought of playing in under-19 level and then at the club level and, hopefully, making it to the national team.
I think it was about 12 months after the under-19 World Cup that I got my first national call for the tour to Australia. It has just rocketed from there and, hopefully, it's a long way to go.
It's obviously a massive occasion to have played my first game in Australia, against the best, and also winning. It was pretty nice.
Your place in the ODI and T20 squad is more of a certainty. But with Dale Steyn and Morne Morkel leading the South African attack in the Test side, what role do you see yourself playing?
Obviously, Steyn and Morne have been bowling well, especially for the past few months or so. I think my role will change from time to time, depending on the surface, depending on the situation in the game. It is up to me to adapt to that quickly.
There will be a time when Morne Morkel and you will battle for the same slot (at least in the Tests)…
It's tough being mates and competing for the same spot in the team. We started out some time back. He was obviously picked first and did well. Then I came in and did pretty well.
But friendship lasts for a life. A cricket career lasts for 10-12 years and then you need your friends. So we have stayed mates throughout and will obviously support each other in the future too. And that is the way it should be.
Tell us about your experience of playing County cricket at Kent?
It was good. I was playing with some experienced guys over in England and obviously learning about Test cricket.
Just talking to guys like Robert Key, who has played Test cricket for England, and Martin van Jaarsveld, who has played Tests for South Africa, helped me do well and improve.
Also, playing in different conditions helped my game a lot.
Coming to the Indian Premier League, did you expect such a good deal?
No, I actually I didn't expect it. I was actually flying to Cape Town that morning when that auction was on, and when I got down from the plane and switched on my mobile, I saw a lot of messages from various people telling me that I have been signed up by the Delhi Daredevils.
I am really excited to be part of the IPL. Hopefully, I will do well for Delhi.
Do you have any idol, any role model?
In the early part of my career I enjoyed watching Ashish Nehra play. I can remember, in Port Elizabeth at St George's Park, during the 2003 World Cup, I went to watch him play and he bowled beautifully.
Now it's weird because he is in the Delhi Daredevils IPL team and also in the Indian team. So I play both against him as well as with him.
But he was probably a role model early on, as he is also a left-arm bowler.
Finally, what keeps you occupied when you aren't playing?
Away from cricket, I just like to relax. Facebook is the main thing I do. And , obviously, listen to music.