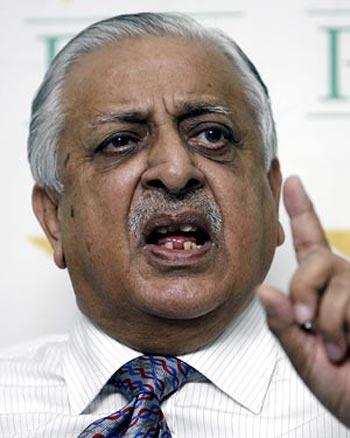 Wicketkeeper-batsman Kamran Akmal and pacer Rana Naved are the two players allegedly under investigation by the Pakistan Cricket Board for their involvement in match-fixing.
Voice of America, quoting a highly placed source in the PCB, reported on Saturday that both the players were dropped for the Twenty20 international series against England in Dubai this month for their role in match-fixing during their recent tour to Australia.
"Although both have been named in the 30 probables for the T20 World Cup but they will eventually not be selected in the final 15," the source said.
According to the source, the PCB acted after the International Cricket Council (ICC) provided them with information that linked the two players to match-fixing.
PCB chairman Ejaz Butt had stopped short of naming the two players at a press conference on Friday.
Butt first claimed that two Pakistani players were under investigation for match fixing but shockingly later retracted his statement saying he was talking about an old case.
Butt created further confusion when he said that the PCB was provided such information by the ICC because of which they have been forced to take action against the players.
He refused to divulge any names claiming it was a confidential matter between the board and ICC.
Kamran's performance on the recent Australian tour has been under intense scrutiny after he dropped three catches and missed a big run out in the match that Pakistan eventually lost by just 32 runs.
Sources have told PTI that even Abdul Raquib who went as manager on the Australian tour had told the inquiry committee of the board about his apprehensions about Kamran's performances.