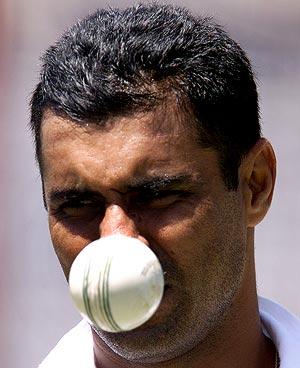 Former Test captain Waqar Younis accepted an offer from the Pakistan Cricket Board to take over as national team coach on Saturday, a day after the PCB had offered him the position.
"I have received a proper offer from the Pakistan board and I am ready to take on this challenge," Waqar said from Sydney, where he is based with his family.
Waqar who played 87 Tests and 262 One-Day Internationals between 1989 and 2003 said the PCB has given him a contract that runs through the 2011 World Cup.
"That is fine with me. I see this job as a big challenge as Pakistan cricket has great talent and potential to deliver top results against all teams," Waqar said.
Waqar will replace another former skipper Intikhab Alam, who has been released as head coach despite having a two-year contract with the board that ends this November.
Since 1995, the board has changed the coach at least 14 times with former England player Bob Woolmer enjoying the longest stint from 2004-07 until his sudden death during the last World Cup in the West Indies.
PCB chairman Ejaz Butt also told a news conference on Friday that they would be looking at appointing foreign consultants on a series-to-series basis when required.
Waqar, who was a bowling coach with the national side from 2006-07, said he has no issues working with foreign consultants and would return to Pakistan soon to finalise his agreement with the board.