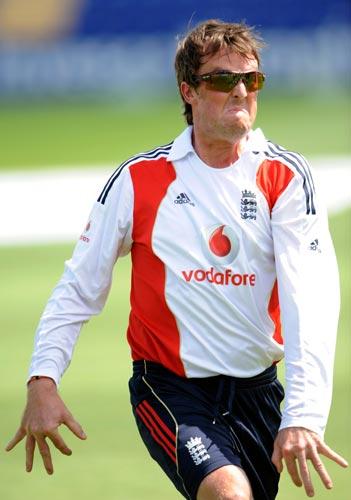 England off-spinner Graeme Swann's sparkling form in South Africa contrasts with his tour there 10 years ago when he spent a lot of time drinking and was a million miles from the Test side, he was quoted as saying on Sunday.
Swann is up to third in the international bowling rankings after his nine-wicket haul in the second test led England to an innings victory, a result that gives the visitors a 1-0 lead going into Sunday's third and penultimate match in Cape Town.
However, it was very different when he toured South Africa as a young squad member in 1999-2000.
"The difference between this current tour and that one is like polar opposites," the 30-year-old Swann told the Mail on Sunday newspaper.
"I would turn up at the next hotel and the first thing I'd find out was where the bar was located.
"I was young and stupid and I didn't realise that sometimes you need more than one alarm clock to wake you up," he added.
Swann did not play a test match on the 1999-2000 tour and acknowledged he was not good enough in those days.
"When you are 19 you think you know everything there is to know," he said.
"You're convinced you're right and that everyone else in the world is old and senile, out of touch and wrong.
"At the end of it (then coach) Duncan (Fletcher) sat me down for my tour review and praised me for my 'tenacious' attitude in training but I didn't need to be told. I was nowhere near good enough, a million miles from playing Test cricket," he added.
After the second-Test win in Durban on Wednesday, England captain Andrew Strauss said Swann had been a key figure in the team's resurgence this year.
"Graeme has had a massive impact over the last 12 months," said Strauss.
"He has always been a very attacking spinner, he gives it a rip, bowls an attacking line and with the extra pressure of test cricket, that can be invaluable," he added.
Swann said that, looking back, he was pleased he did not feature in the Test side 10 years ago.
"I'm very glad I didn't play because I certainly wouldn't have done justice to myself and I may have made such a hash of it that I never got another go," said the spinner who is also a hard-hitting, lower-order batsman.
"Even if I had done okay, in all probability I would have formed too high an opinion of myself and ended up disappearing from the game and stuck in a day job I hated."