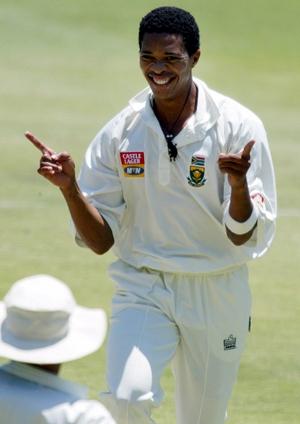 Pacer Makhaya Ntini, the first black cricketer to play for South Africa, is planning to bid farewell to international cricket after being dropped for the third Test against England.
He has reportedly signed an agreement with English county side Middlesex that will keep him from being available for national duty.
Ntini celebrated his 100th Test in the second Test against England last month, but was left out of the team for the third Test because of consistently declining performances in the last two years.
Although Cricket South Africa (CSA) remains tight-lipped, sources close to Ntini indicated that the 32-year-old former herdsman has signed a Kolpak contract with Middlesex.
Such a contract requires players to undertake that they will not be available for their national team. Ntini has a contract with CSA until April.
"CSA has not heard anything yet from Ntini," Proteas spokesman Michael Owen-Smith told the Afrikaans daily Beeld.
"The selectors will decide if he is offered a contract again and he can then decline the contract," he said.
Ntini, who became a celebrity after being snapped up out of obscurity and poverty as a rural herdsman, was the first black African player in the national side after decades of the team being exclusively white in the apartheid era.
He has 391 wickets from 101 Tests, while snapping up 266 in 173 ODIs.