England batsman Kevin Pietersen, who was out for a second ball duck, threw beer over South African fans after they called him a 'knob'.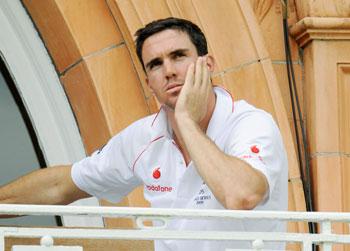 Pietersen tossed the booze from the England team balcony and asked police to remove some spectators.
One fan, Socrates Georgiades, 37, said: "It was all good-natured fun. It was great to see him get out for a duck so we decided to give him some stick and sang 'Pietersen is a knob' a couple of times.
"Jonathan Trott and the other England boys were laughing at us. You could see they were treating it as good-natured banter. But Pietersen got nasty and retaliated by throwing beer all over us. At first we thought it was water but, when we tasted it, it was definitely beer," The Sun quoted Georgiades, as saying.
South Africans have never forgiven Pietersen for turning his back on his home country to play for England and have booed him throughout the tour.
"I saw Pietersen throw the beer from the balcony. He didn't hang around and went straight back into the dressing room. Clearly the pressure is getting to him," Georgiades said.
"Pietersen should have taken it on the chin. The Barmy Army do this sort of thing the whole day," he added.