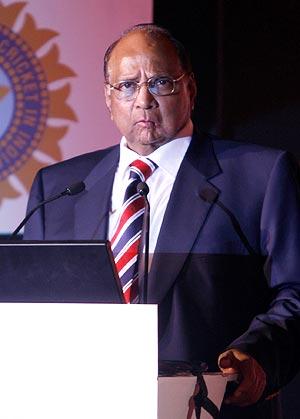 Soon after taking over as president of the International Cricket Council on Thursday, Sharad Pawar declared that he will push for the resumption of Indo-Pak bilateral series.
"Recent Home minister and Foreign secretary's visit to Pakistan is a welcome sign. If India and Pakistan start playing and it influences the bilateral relations of the two countries, and also if both the governments permit, we will be happy to encourage," Pawar told CNN-IBN.
The former Board of Control for Cricket in India president, who is also a serving Union minister in the Indian government, began a two-year term as ICC chief after taking over from David Morgan.
The 69-year-old Pawar expressed hope that the process to improve relations between the two neighbouring countries will help foster cricketing ties too.
"ICC wants India and Pakistan to continue their bilateral series. But ICC had not taken the initiative to stop that. It was because of some unforeseen circumstances that both the countries had decided to stop it. But now that the process to improve relations between the countries is on, it will give some dividends to cricket too," Pawar added.
Cricketing ties between India and Pakistan disconnected after the 26/11 Mumbai terror attack in 2008.
Read the transcript of the interview:
You are becoming ICC president at a time when some say the cricketing world is divided. Cricket Australia is angry that their candidate for vice-presidentship, former Prime Minister John Howard, is not there. Are you worried that you are facing a divided ICC? 
I'm not worried because it's a democratic organization. According to ICC constitution, if any four members oppose any proposal, that cannot be passed. That's why we have requested Australia and New Zealand to give a second thought and come out with a new proposal.
Don't you think this will divide the cricket world between Australia/New Zealand and other countries?
No, I don't don't think so at all. We have discussed the matter individually and collectively with everybody, including Australia, England and New Zealand also. We took collective decision.
What is your first task as ICC president? Some are saying that you will be shifting the ICC headquarters from Dubai to Mumbai. Will you be doing that?
There is no proposal like this. ICC, in one of the meetings, decided to shift to London and we have appointed some people to assist us in assessing legal position, taxation position etc. After evaluating all, if it's financially convenient, then we may give a serious thought. Otherwise, there is no proposal of shifting the headquarters from Dubai to elsewhere.
What is the first challenge before you as the ICC president?
There is lot of debate about the format. There are three formats and one person like me believes in Test match; there is also a sizeable section who prefer One-Day, and a section of the new fans feel for T20.
I think all the formats have definite response in different reasons. So we have to preserve all the forms.
Secondly, my efforts will be to expand the base of cricket to other countries. Today there are 105 countries who are the members of the ICC. But, in true sense, unless we expand the game to China, USA, some parts of Eastern Europe and some parts of Africa, the game would not reach every corner of the world. 
Will you start more 20-20 cricket across the world? Is it going to be played at the cost of Test cricket and other formats?
It's not about the T20. In new area, our efforts will be to encourage cricket. To set up cricket academies, to impart training and get the local people and fans involved in cricket. If the fans prefer Test cricket we may go ahead with it; or if they like One-Day we will follow that format. If there is a section which prefers a short-term match of four hours, like football, we are not against the T20 too.
There is also talk that Indo-Pakistan bilateral series shoud be brought back. As the ICC president, would you push for that?
Recent Indian Foreign secretary's visit and Home minister's visit is a welcome sign. If our first experience is that bilateral cricket series can improve the relationship, and if the government permits, we will be happy to go ahead with that.
Are saying that you are positive about beginning India-Pak series in near future?
Defence and both governments have to give clearance.
Do you feel that now the dialogue has begun, as ICC president you can make an effort in this regard?
Yes, ICC wants the India-Pakistan series to resume. ICC has not taken any decision to stop the series. Due to certain unfortunate incidents both the governments have decided to stop it. But, I think, as the process of dialogue between two countries is on, it may pay some dividend to cricket.
How will you divide your time between politics, cricket and agriculture? Will you be able to give time to politics or enough time to cricket as next year is the World Cup?
Fortunately, the ICC headquarters is in Dubai, and Dubai works on Saturday and Sunday. So, generally, I've to spend three to four days in a month on Sundays. So it's a matter of two hours flight. So, I think, there won't be any difficulty.
Secondly, I will discuss with Prime Minister about my responsibilities and will take appropriate decision that my government work is not affected.
When you are saying appropriate decision, that means till the World Cup is over your focus will be ICC, and, therefore, your work in the government will be less.
I may suggest for more hands. I had asked for three ministers but they have given only one.
Do you think it will be possible for you to be an effective Agriculture minister and ICC president in the World Cup year when the World Cup is in India?
If I request to reduce some of my work we may find some solution. I won't allow my work in government to suffer.