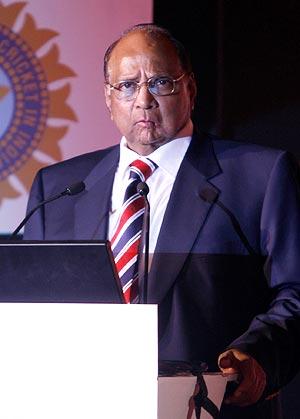 Former Board of Control for Cricket in India (BCCI) chief Sharad Pawar took over as the International Cricket Council president on Thursday, July 1, becoming the second Indian, after Jagmohan Dalmiya, to occupy the top post.
Pawar is the seventh ICC president, replacing David Morgan who concluded his two-year term, at the ICC's Annual Conference in Singapore.
Pawar thanked Morgan, a former chairman of the England and Wales Cricket Board, for his "impressive innings" as ICC president during the last two years.
"David Morgan has set the principles by which the ICC operates and now it is our responsibility to build on his legacy," he added.
In turn Morgan wished Pawar, who has served as his ICC vice-president since 2008, the best of luck in the future and added: "In the past few days many people have thanked me for my contribution to cricket. All I would say is that cricket has been kind to me it has given me much more than I have given back."
Pawar has taken over the top post at a crucial time when India, Sri Lanka and Bangladesh are scheduled to host the  50-over World Cup next year.
Dalmiya was the first Indian to be elected for the post, in 1997.