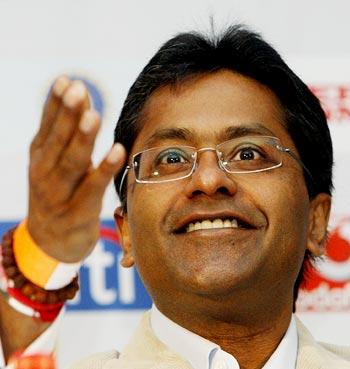 Lalit Modi's expulsion from the Board of Control for Cricket in India (BCCI) appeared almost certain on Saturday with a Special General Meeting unanimously ratifying all charges against him and authorising Board president Shashank Manohar to initiate civil and criminal proceedings against the suspended Indian Premier League (IPL) chief.
It also referred the charges against Modi to a re-constituted disciplinary committee which now has Union Minister Jyotiraditya Scindia replacing Manohar, who recused himself after Modi accused him of bias.
Manohar said criminal proceedings could be started against Modi for financial bunglings while issuing IPL contracts and rights.
"The house, after deliberation and debate on the matter, resolved that the Board president has the right to start any legal proceedings, including civil and criminal proceedings, against Mr Modi," he told a press conference.
"The civil and criminal matters would be decided after inquiry and that is for the disciplinary committee to decide. I can tell you that there were certain rights given to parties without there being contracts like the ticketing rights of the finals and the third-place match given to a company called 'Ticket Genie'. There was no contract to show how many tickets were printed and how many were sold," he said.
Apart from Scindia, the disciplinary committee also includes IPL's interim chief Chirayu Amin and BCCI vice-president Arun Jaitely. Scindia is the Madhya Pradesh Cricket Association chief and a sitting Congress MP from Gwalior.
"There were 30 members present, 29 state associations were there and the house took a unanimous decision ratifying BCCI Secretary's (N Srinivasan) decision to recommend the matter to the disciplinary committee," Manohar said.
"The house unanimously decided to appoint Scindia as the third member of the disciplinary committee. He (Modi) has accused me and Srinivasan of bias, so we both thought that Mr Scindia would be the best person to be in the committee because he is not associated with the day to day functioning of the board," he explained.
Asked about an estimate of the financial irregularities, Manohar said, "I can't say on that but I can say there were number of contracts of which we had no knowledge."
Manohar said Modi will have to appear before the disciplinary committee where he would get a chance to put forth his reply on accusations that include taking kickbacks from television and internet rights.
"Modi says he was not aware about the facilitation fee of US$ 80 million. Modi, who has signed the contract, has given us the reply that he was not aware of the fee. He will be asked to appear before the inquiry committee where he can give his additional reply," he said.
On the disciplinary committee's functioning, Manohar said since he is no longer a part of the panel, he could not comment.
"Now we don't have anything to do with the committee's proceedings," he said.
On the World Sports Group's threat to initiate legal action against the BCCI for scrapping its telecast deals, Manohar said, "If they want to go to court, it's fine."
Modi has been slapped with three show cause notices so far accusing him of financial bunglings, trying to start a rebel league in England and irregularities in issuing theatrical rights of the IPL.
Modi's replies, the first one running into a whopping 15,000 pages, were rejected by the BCCI which then decided to call the SGM to discuss the issue.
The decision to refer the matter to the disciplinary committee is seen as the first step towards ousting Modi from all BCCI positions.
Modi, a BCCI vice-president, has remained defiant accusing the Board Secretary of pursuing personal vendetta against him.