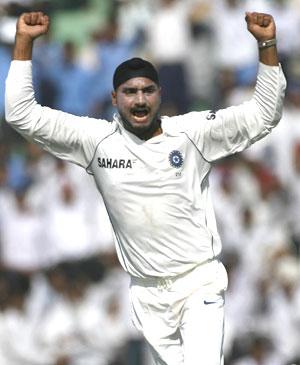 Harbhajan Singh's passion for the game is unmatched; his skills with the ball have seen him emerge as one of the top spinners in world cricket. On the field or off it, there's never a dull moment when he is around.
The champion off-spinner enters another major phase in his life on Saturday, July 3, when he celebrates his 30th birthday.
- Harbhajan's five best moments in Test cricket
Committed as he is, Harbhajan says there won't be a big celebration on the occasion, as he is engrossed with the upcoming three-Test series in Sri Lanka, which "will be a big test for Team India".
Instead, he chose the occasion to thank his family, friends and fans for standing by him through good and bad times.
"On my birthday, I want to thank everyone who has supported me -- my family, my friends and everyone who have stood with me through thick and thin. A big thank you to all my fans, because they are the ones who make everything possible," Harbhajan told rediff.com.
So, how does it feel to turn 30?
"Nothing changes as far as my cricket or my life is concerned; it's just a number. I don't feel that I have aged. I still feel fresh. I still have a long way to go as far as my career is concerned. I want to keep performing and win more matches for my county."
The ace spinner agrees that with age, responsibility also does increase and so will be the expectations from fans and teammates.
"I was pretty responsible from start. I have worked pretty hard to get where I am right now. I can't relax, because in cricket you can't take anything for granted," he said.
Join us in wishing the champion spinner all the best in the year ahead. We will make sure he gets your wishes.