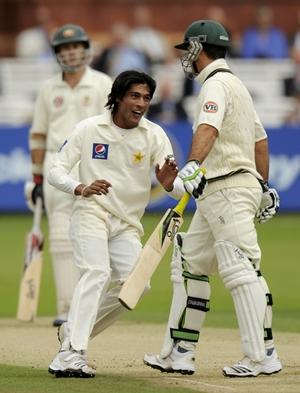 Match referee Chris Broad has spoken to Pakistan fast bowler Mohammad Aamer about his future conduct after he brushed against Ricky Ponting following his dismissal of Australia's captain at Lord's on Day 1 of the first Test on Tuesday.
Aamer, who collided with vice-captain Michael Clarke in a Twenty20 international last week, was racing down the pitch to celebrate with his team mates after Ponting was smartly caught at short-leg for 26.
The International Cricket Council said on Wednesday that while the umpires had not felt the incident warranted any formal action, it was the second time in two matches that Aamer had made contact with a batsman after taking his wicket.
"Aamer is a young, exciting, talented player full of enthusiasm for this great sport and that is to be celebrated and nurtured," Broad said.
"But there are a few things he still has to learn in relation to how to conduct himself on the field of play. I told him that when he takes a wicket, he should celebrate with his team mates rather than getting himself into the personal space of the outgoing batsman.
"He accepted it graciously and undertook to avoid a repeat occurrence. As far as we are concerned the issue is now closed."