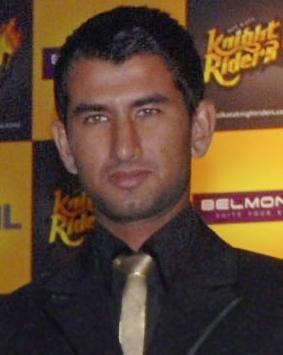 C
heteshwar Arvind Pujara
, arguably the most promising young batsman in India today, has been knocking at the doors of Test cricket for quite some time now.
Hailed by many a discerning critic as another Rahul Dravid, the unassuming Saurashtra player had a very fruitful tour of England and Scotland recently, not only as a batsman but also captain of the India 'A' team.
He scored a double century (208 not out) against the West Indies 'A' team in a 'Test', two hundreds in seven one-dayers on the tour and yet another three-figure knock in the tri-series.
He dominated the tri-series, involving the India 'A', West Indies 'A' and England Lions teams, scoring 332 runs at an average of 83.00, with a strike-rate of 95.40, including one century and two fifties.
Though he never captained a senior team before, he led from the front and did not allow the extra responsibility to affect his batting. If anything, India 'A' came agonisingly close to winning the tri-series. A generous Fleet Street was forced to take note of the youngster's compact batting and consistency in England and Scotland.
Pujara spoke exclusively to Haresh Pandya soon after returning from the long, exhaustive tour.
What are your memories of the tour?
Most players grabbed their opportunities and performed fairly well from time to time. It was a bit disappointing that we couldn't win the tri-series final against the England Lions. But we did try our best, didn't we?
If we had won, it would have been akin to icing on the cake. The England Lions, in particular, had a few international players in their ranks and it was pretty satisfying and encouraging for many of us to perform well against them, not just in the tri-series final.
The tour as a whole was a good learning experience and we had our moments at times.
Considering the team's overall performance, the players -- the many first-timers particularly -- seemed to have acclimatised quite well in otherwise challenging conditions in terribly cold England and Scotland. How did this come about?
We had a 10-day conditioning camp in Bangalore before we set off. We practised on different wickets, and the seamers were guided and prepared by experts on how to bowl on slower, wet English pitches.
We underwent a lot of training and were physically and mentally prepared for the difficult tour.
What was it like scoring a double century very early on the tour?
It was one of my best innings in any form of cricket anywhere in the world.
I think I was truly tested even though the pitch wasn't that bad for batting. The double century boosted my confidence and I think it reflected in my subsequent performances on the tour.
The Indian team for the Test series in Sri Lanka was announced soon after you essayed that eye-catching double hundred and the one-day century that followed. How did you feel about not being selected?
I was a bit disappointed, frankly speaking. But I didn't allow my disappointment to get the better of me. I am sure my chance will come sooner than later, especially now that I've done reasonably well on this tour.
Were you hoping to be selected?
I'd be lying if I said I wasn't. But I tend to look at the positive side of things in life, not just in cricket, and I think it's this attitude which has always stood me in good stead.
Also, I understand how difficult it is to make it to Team India these days when there are so many talented players around.
Have you figured out why the selectors did not chose you?
It is none of my business to figure out such things. The selectors are there to judge and pick the best possible team.
My job is to keep performing, hoping to be noticed. And this is precisely what I have been doing.
But I'm very confident of representing India at the highest level pretty soon. I think I am ready for Test cricket now. I am very hopeful.
Was any Indian selector present in England to watch the players in action?
There were four of them at different times. First, Narendra Hirwani and Surendra Bhave were there; then Yashpal Sharma and Raja Venkat. Their presence was obviously very encouraging.
You were very successful in the one-day matches too. Your strike rate was very impressive. You were seen hitting sixes quite frequently. Does this mean you wanted to prove that you are not a batsman fit to play cricket of only longer duration?
I have never been a slow batsman. I always play my shots and never hesitate to execute them, whether I am on 0 or 99, provided the ball deserves punishment. But you can't be selfish in a team sport like cricket.
You have to plan your innings and play according to your team's situation. I have always enjoyed one-day cricket. Yes, I have been hitting more sixes now than ever before.
I think it is the demand of the time. It is the result of Twenty20 cricket and my stint with the Kolkata Knight Riders.
My father, who is also my coach, has helped me perfect lofted shots with vigorous practice in the nets.
Were you surprised when you were appointed captain, especially since you had never led any side before?
Yes. But I was very happy about it at the same time. It showed the selectors' confidence in my ability, not just as a batsman. I found it very encouraging.
Were you satisfied with the team given to you?
Yes, of course. They were all very talented players and most of them had figured in the Indian Premier League, too. They knew their responsibilities and didn't need to be told what was expected of them.
They are hungry for success and it reflected in theirs as well as the team's performance on the tour. It was what you call a balanced side. The players gelled very well.
What do you think was your plus point as captain?
I think my confidence in myself and my players. Also, my ability to keep my cool in the most difficult of situations.
I am a level-headed guy and this has helped me a lot in my cricketing career.
Did you have to exercise your authority as a captain sometimes? If you had to say something to your players who might not have followed your instructions?
Not really. They knew their responsibilities very well. There were no incidents of indiscipline or disobedience to instructions from the team management. Many of us had played a lot of cricket with and against each other, so we knew one another quite well.
How was your rapport with manager Pravin Amre?
Excellent! He was a guiding spirit, a fount of encouragement and inspiration to all of us.
In the past too, I have toured under him and I have only respect for him and his vast cricketing knowledge. He is a very friendly, understanding gentleman who is always ready to help young players.
What are your views on Jaydev Unadkat? What was the secret of his success with the ball?
He is very, very talented. I am certain he will play for India one day. For one so young, he appears to be a highly mature cricketer.
He has good pace and swings the ball very well. I think this was one of the reasons why he was noticeably successful in England where he made the most of slower wickets and weather conditions.