Getting the wicket of "dangerman" Virender Sehwag early on Wednesday will be crucial for Sri Lanka's chance of winning the first cricket Test, according to spinner Rangana Herath, who stole the spotlight with an unbeaten 80.
"There can be a result. But Sehwag is the danger man. If we can get him early tomorrow we are in the game," Herath said after the third day's play.
Tailenders Herath and Lasith Malinga (64) batted briliantly to help Sri Lanka rattle up a mammoth first innings total of 520 for eight declared. The hosts then left India gasping at 140 for three.
"We (Sri lanka) are on top now. So we will try to get two or three early wickets so that we are in the game. If we can get two or three wickets we can prevent India from avoiding the follow on. So we can go for that as well," Herath said.
"If we get two or three wickets tomorrow morning we can restrict India to about 250 to 300. That is what we want," he added.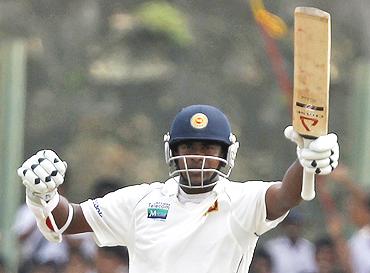 Herath praised opener Sehwag and VVS Laxman but reckoned that the former may prove to be a big threat for his team's chances.
"Laxman and Sehwag batted really well. At the same time the bowlers have also done well. If they make one mistake everything will be gone. So we hope to get two or three wickets early tomorrow," he pointed out.
The 32-year-old spinner was also happy with his performance with the bat but said he never thought about getting a hundred although he had the opportunity on Tuesday.
"I am happy with the way I batted. This is my highest in the first class and Test cricket. I did not think of 100. I just wanted to get on and score some runs. Murali told me that he could stay with me if I can get a hundred," he said.
"I and Malinga did not devise any strategy while batting. We just concentrated on getting the runs. Batting was difficult. The first 10 to 15 overs was hard. I realised it was not easy to negotiate the turn and bounce," he added.
Herath also praised retiring spinner Muttiah Muralitharan for taking the prized wicket of Sachin Tendulkar.
"I think Murali bowled really well today. Murali got Sachin out so that is a good advantage for us," he said.
© Copyright 2023 PTI. All rights reserved. Republication or redistribution of PTI content, including by framing or similar means, is expressly prohibited without the prior written consent.