Former Pakistan captain Imran Khan fears Test cricket might die if stars like Shahid Afridi and Andrew Flintoff continue to retire from the format to chase the millions on offer in Twenty20 leagues like the Indian Premier League.
"If the best players skip Test series, then standards will fall," Imran said in his MCC's 'Spirit of Cricket' lecture at Lord's on Monday night.
"The danger is that you will have Test cricket reduced to very ordinary cricket that could die. Shahid Afridi wanted to play one-day and Twenty20, and former English captain Andrew Flintoff, too. It shows that players will save themselves for where the money is. 
"In six weeks of playing Twenty20 in the IPL, some players make more money than I made in my 21 years of international cricket. In these circumstances, I would do exactly that," he added.
He said soon a lot of players would skip Tests because of he packed international schedule. 
"There seems to be a mistaken belief among those who run cricket that 'more' somehow equals 'better' - or at least you might say there is a confusion of how best to arrange the international and domestic calndars," he said. 
"But it is not possible simply to keep playing more Twenty20 while maintaining the same commitments to Test and 50-overs cricket. Something has to give," he warned.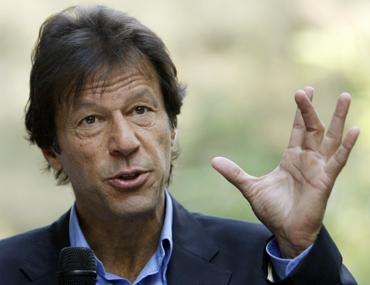 Imran, who scored 3,807 runs and took 362 wickets in 88 Tests for his country, said the longer version of the game remains the "bedrock of our game." 
"A good Test cricketer will always do well in Twenty20 cricket, but a good Twenty20 player might not do so well in Tests. You may as well get rid of 50-over cricket because you cannot have three forms. Test cricket is indispensable and must be protected," he said.
"Twenty20 has taken parts of our game to a new level - the fielding is just incredible. It is unrecognisable from the time when I played. Can you imagine a medium-pacer like Geoff Arnold diving around in the field? And I would have loved to have played some of the shots now. New strokes have arrived in the last 20 years which are good for the game," Imran said. 
He also praised the improvement in umpiring.
"We were told when we toured England that English umpires make mistakes, but Pakistani umpires always cheat," he said. 
"There was a great amount of resistance at first to the idea of neutral umpires and the spirit of the game suffered. When Pakistan played India in my time, it deteriorated to depths you cannot imagine," he added. 
Imran supported the usage of the Decision Review System, calling it "a great innovation". 
"We must eliminate every chance of a wrong result. The spirit of the game to me means that the result should be fair," he said. 
Praising the England and Wales Cricket Board for staging two Test matches involving Pakistan and Australia here, he said "no Test playing nation will want to tour Pakistan again until the war on terror is over."