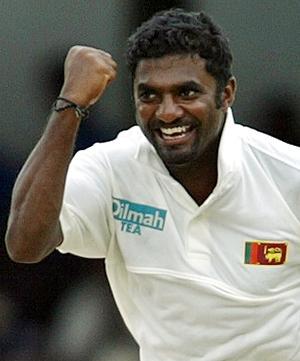 Legendary bowlers Shane Warne and Wasim Akram are of the opinion that no bowler can match, or even come close, to Muttiah Muralitharan's amazing achievement of 800 Test wickets.
Sri Lanka spin legend Muralitharan bid goodbye to Test cricket in Galle on Thursday in a blaze of glory, claiming eight wickets in the first Test against India to go into the history books as first bowler to take 800 wickets.
Writing on social networking site Twitter, Warne tweeted: "Congrats to Murali on his 800th wicket and a wonderful career!!! Well done, buddy, awesome."
- Muttiah Muralitharan: 800 and done
"I don't think anyone will get there, so well done to Murali for getting his 800," Warne, the leg-spin legend, told Sky Sports.
"The way he has gone about it has been amazing. There's been a lot of controversy about his action but at the end of the day the ICC cleared him, he's allowed to play, and what he did with the ball was amazing," the retired Australian added.
Pakistani pace legend Akram said world cricket will not see another Muralitharan
"Murali is something phenomenal. Words are not enough to explain how exceptional he is. I don't think anyone will even come close to taking 800 wickets. The number not only highlights the man's exceptional skills, it reflects the passion and discipline of a great sportsman.
"I have never seen a bowler like him before and don't think I will ever see another in the future as well," Akram told ESPNstar.com.
Warne also re-lived his fierce competition with Muarlitharan when both of them chased the world record.
"We always kept an eye on each other. There was a lot to like about Murali, he always had a smile on his face and he always seemed to be enjoying his cricket. I admired him from a distance and when we played against each other we always tried to outdo each other," Warne said.
South Africa skipper Greame Smith joined the former cricketers in praise of Murali.
"Murali 800 Test wickets!!!!brilliant. Great Test career and a really good man," Smith wrote on his twitter page.
"Glad I don't need to face him in Test cricket again:)," he tweeted next.
Suspended Indian Premier League commissioner Lalit Modi too used Twitter to congratulate the spin legend.
"Congrats to murali on his 800th wicket. You are the best. Well done my friend," he tweeted. 
Muralitharan came into the Test against India looking for eight wickets to reach the magical 800-mark. He scalped five in India's first innings and accounted for three in the second as Sri Lanka beat India by ten wickets.
Warne (708) and India's Anil Kumble (619), both retired, are the second and third leading wicket-takers in Tests.