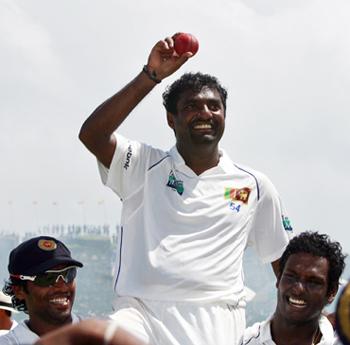 Paying glowing tributes to Muttiah Muralitharan, who retired from Test cricket on Thursday, former India captain Sourav Ganguly said he would rate the Sri Lankan a tougher spinner to face than his long-time competitor Australia's Shane Warne.
"I don't want to get into comparison, but I would prefer Warne. Murali is more accurate and has more variations so tougher to face," Ganguly said.
Ganguly termed Muralitharan's Test retirement after his final five-day game against India at Galle as the end of an era.
- Images: Murali's feat sets up Sri Lanka win
"(Shane) Warne, (Anil) Kumble had already retired and now (Muttiah) Muralitharan... It is an end of an era," the 38-year-old said.
"His (Murali's )record will be very hard to beat; he has been a great chapter in Sri Lankan cricket, having reigned supreme for more than 15 years. He is hard to be compared with anybody," he added.
Ganguly felt, like other great cricketers of the past, Muralitharan chose to retire when he was at the peak of his career.
"All great players leave when they are at peak. It's really a nice way to bid goodbye to Test cricket after taking 800 wickets in Tests. (Sunil) Gavaskar, Shane (Warne), Glenn (McGrath) all called it quits in prime of their respective career. I am sure when Sachin Tendulkar decides to leave, he too will go on a high," said Ganguly.
Ganguly said Muralitharan still has a lot of cricket left in him and hoped he would continue to play in shorter formats of the game.
"I am sure he will play One-day, IPL and county cricket. For Murali, most of his cricket is still left," Ganguly said.
He also said without Muralitharan in the Sri Lankan side in the remaining two Tests, India, down 0-1 in the three-match series, would breathe easy.
"It will be easier for Indian batsmen in the next two Tests. Apart from (Lasith) Malinga, Sri Lanka have no other strike bowler. But for India to win, they have to take 20 wickets," Ganguly said.
Talking about the upcoming CAB Annual General Meeting, where Ganguly would attend through Mohammedan Sporting, he said, "It's not new for me. Bengal need cricket-oriented development programme in place."
On WV Raman being appointed Bengal's new coach for the upcoming Ranji season, Ganguly said, "Raman is welcome to Bengal cricket. He is not new to the state and knows about the state cricket. I wish him luck."
He said he will be available for domestic One-dayers but will take a call on Ranji Trophy availability after the selectors approach him.
"Selectors are yet to talk to me on this regard. As of now, I have not decided about it. I will decide when they talk to me. But I will be available for one-dayers," he said.