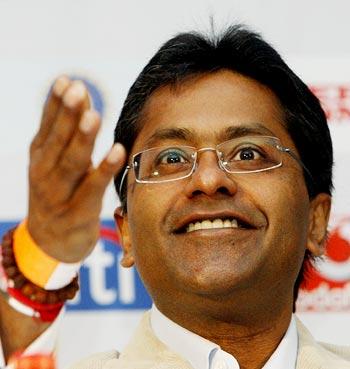 Suspended Indian Premier League commissioner Lalit Modi on Monday slammed the Board of Control for Cricket in India and termed the inquiry into the alleged financial irregularities against him as a "witch hunt".
The BCCI's three-member disciplinary committee will meet in New Delhi on Tuesday to continue its probe into the allegations against Modi, who will again skip the proceedings and be represented by his lawyers.
"Rumours of non-cooperation from me are planted and irresponsible. If this is not a witch hunt, what is?" he wrote on Twitter.
The BCCI's disciplinary panel comprises interim IPL chairman Chirayu Amin, BJP leader Arun Jaitley and Union minister Jyotiraditya Scindia. Modi has objected to the presence of Amin and Jaitley on the committee, saying that being BCCI officials they will be biased against him during the probe.
He took another potshot at the BCCI's committee by writing on Twitter: "Have always agreed to cooperate provided there is no witch hunt. Those concerned should be guardians of justice and the sport."
Modi has been charged with financial irregularities relating to the bidding process for IPL franchises, the sale of mid-over ads and theatrical rights. He is also charged with colluding to set up a rebel league in England.