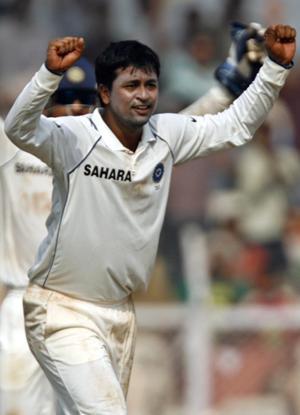 Forced to toil in the second Test, India spinner Pragyan Ojha on Tuesday said even the Sri Lankan bowlers will struggle to contain the strong Indian batting line-up on the lifeless track.
Sri Lanka scored a massive 642 for four before declaring their first innings and Ojha expects a similar run feast for India, who were placed handsomely at 95 for no loss at the end of the second day.
"The way things are going I don't think anything extraordinary will happen to the wicket, because it is a rock solid wicket. I just think our guys will keep on batting.
"We have realised in the last two days that it is a very good wicket to bat on. If you don't make any silly mistakes, I think, you can just bat on. And the way those guys have played it shows that if we apply ourselves we are going to get a good score here," Ojha told reporters after the day's proceedings.
The second day of the match saw more than 400 runs being scored for the loss of just two wickets at the Sinhalese Sports Club, and Ojha was of the view that pitches that give an equal chance to both bowlers and batsmen should be prepared for Test cricket.
"I think I had come here in 2008; same was the situation. It was more of a batsmen-friendly wicket than bowlers. I feel, personally, we should have a wicket where there is a competition between the bat and ball.
"There was not much turn for me and it was coming on to the bat with the new ball. With the old ball also it was not doing much," he rued.
Talking about the good turn Virender Sehwag managed to extract, Ojha said," Yes there was a rough patch on the wicket. They were getting some help as an off-spinner."
The Hyderabadi spinner was of the view that India's fortunes could have been different had they got a chance to bowl second.
"I think winning or losing the toss was not in our hands. I think we would have liked to bowl second. The amount of runs Sri Lankans got; if we would have bowled second it would have been different," he said.
Ojha also expects a good tussle between the Indian batsmen and Lanka spinner Ajantha Mendis.
"I have been watching him for the past two years. As far as our batsmen are concerned, definitely, he is a good bowler. He got a six-wicket haul against us in the first class match. So, I think, everyone is really looking forward to playing him."