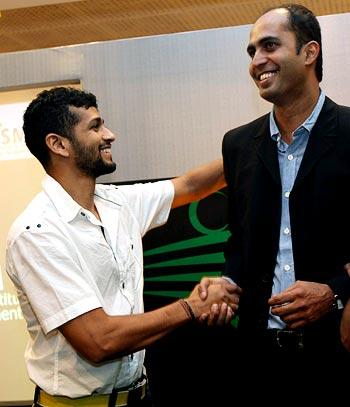 What started as a sweet dream ended like a nightmare.
Nilesh Kulkarni, who claimed a wicket with the first ball he bowled in Test cricket, gave up all forms of cricket on Wednesday.
The lanky spinner, who claimed over 357 wickets in 101 first class games as 39-time Ranji Trophy champions Mumbai dominated the domestic circuit in the 1990s and last decade -- was not even part of the squad the last two seasons, the domestic powerhouse preferring young tweakers.
"I wanted to retire on a high, and it is not only me who wanted this to happen. Cricketers want to go out on a high, they don't want to retire under closed doors. I also had a dream of leaving the field on a high. There are certain things which are not in your control, so I cannot help how it all ended, and I had to retire this way," an emotional Kulkarni lamented at the Cricket Club of India in Mumbai on Wednesday evening.
He also revealed his plans after cricket by announcing the launch of the Indian Institute of Sports Management (IISM) -- a joint venture between Eduhub Education Pvt Limited and GreCells Education Limited -- which is in the business of churning out trained and qualified professionals.
The 37-year-old took a potshot at the Mumbai Cricket Association (MCA), many of whose officials were present on the occasion, saying players like him, who give their all to the association, should be given a better farewell.
"I wanted to retire after playing a game; I think things don't happen as you wish for. This is what is pinching me; I'm disappointed I had to retire this way. I think there should be a practice that one should be allowed to go on a high. Give a player a time limit, like it happens abroad, and then let him go smiling.
"In my opinion, the MCA should address such things -- let a player at least retire on a high note," he said.
Kulkarni also revealed that unlike a some of his team mates, like Amol Muzumdar and Sairaj Bahutule, who quit Mumbai and joined other Ranji Trophy teams towards the fag end of their careers, he rejected similar offers.
"There were many opportunities that came to me, but I'm a Mumbai player and I wanted to leave cricket only in Mumbai. This city is very close to me and I'm happy having my cricket end in this city," he said.
Kulkarni had Marvan Atapattu caught behind with the first ball on his Test debut in August 1997, making him the 12th bowler in the world to achieve the feat. Not surprisingly, he pointed out that it was the finest moment of his career.
"For a boy coming from small town of Dombivali and playing for Mumbai and then for India, it was a really amazing journey. It was a dream journey for a small town boy. I was fortunate enough to represent the city which gave so many cricketers to India.
"And what luck that I started with a wicket with my first ball in Test cricket," he added.
Image: Amol Muzumdar and Kulkarni at the CCI
Photograph: Leeladhar B