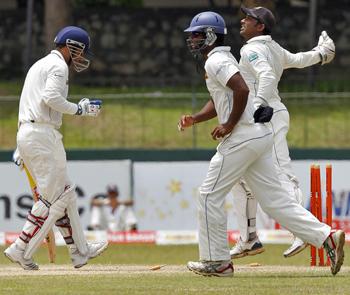 Explosive batsman Virender Sehwag rued his selection of shot while batting on 99, and said had he not committed the mistake India would have been in a strong position in the second cricket Test against Sri Lanka.
Sehwag missed out on his fourth successive Test century when he gave charge to Suraj Randiv, missed the ball and was stumped by Prasanna Jayawardene.
The Delhi marauder though was not disappointed on missing the three-figure mark.
"I think we played bad shots. If you look at my shot… and that VVS Laxman decision was perhaps doubtful. When we were bowling, the Sri Lankan batsmen were not making any mistake.
"That is why they scored 640 runs in the first innings. It is not the spinner's (quality) but it is the batsmen's mistake. So, hopefully, we will not make the same mistakes in the coming innings," he said after the third day's play in the Test.
"I was disappointed today not because I got out on 99, but it would have been good for us if we had remained one or two (wickets) down," he added.
Asked if he had read the ball before going for the shot, Sehwag replied," Yes, I knew the ball to which I got out was a doosra. But I went for the shot."
Sehwag said even after his dismissal he was sure someone would get a big score for the side's cause.
"I was not really worried. The wicket is so good to bat on. So I knew someone will make a big one. I was expecting centuries from Sachin [Tendulkar] and [VVS] Laxman. But, unfortunately, Laxman got out.
"And full praise to Suresh Raina. He batted really well for his 50 and I am hoping he will complete his century tomorrow. If we play well we can avoid the follow-on and can bat the whole day," he said.
Although the bowlers are struggling to get wickets on a good batting track at SSC, Sehwag is still hopeful of a result in the Test.
"It is difficult to say that but I think result will come. It doesn't matter who wins or who loses. I think the result will come. There are some cracks opening up and I am hoping the result will come.
"It is always like that. In the sub-continent you will get a wicket like that. The first two days good for batting, third day little bit spin fourth and fifth day the spinner will get more help and it is difficult to bat on fourth evening or fifth day," he opined.