Bikash Mohapatra glances at Suresh Raina's amazing cycle of cricketing fortune.
It took five years coming.
But it was certainly worth the wait.
July 30, 2005: The day when an 18-year-old Suresh Raina made his one-day international debut for India against Sri Lanka in the Indian Oil Cup at Dambulla.
The debut was anything but memorable.
Probably the intensity of the occasion got the better of the youngster. How else can one explain the difficult start that Raina had his international career?
He was dismissed for a golden duck on the day, foxed by a doosra from Muttiah Muralitharan.
He scored just 37 runs in the series (averaging a paltry 12.33) and was subsequently dropped from the side.
Flash forward to July 29, 2010.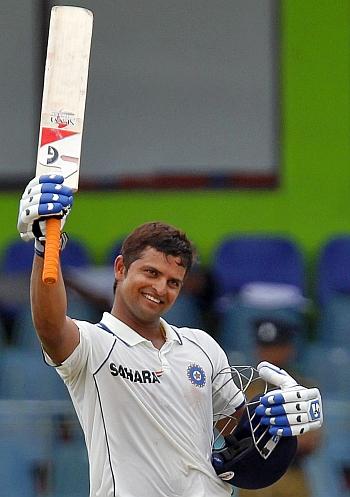 Raina, having made his Test debut three days earlier -- in the second Test at the SSC Ground against a side which had ensured him that forgettable one-day debut -- became (on this day) only the ninth Indian* -- 12th if we take into account the second innings -- and the 59th overall to score a century (120) on Test debut.
An off drive from Dammika Prasad's bowling not only raced to the boundary but also ensured Raina his milestone moment.
Life has come full circle for the 23-year-old. And in just a matter of five years.
Between his ODI debut and his century-on-Test-debut, Raina had a career that would give a writer enough fodder to pen a script for a Bollywood blockbuster.
Once he was dropped after his debut series, the struggle began for Raina.
The return and subsequent exits of players like Sourav Ganguly and Mohammad Kaif ensured Raina came in and went out of the squad at regular intervals early in his career.
An injury to Virender Sehwag ahead of India's tour to Pakistan in 2006 gave the youngster an opportunity to claw his way back in the squad. And once there, he helped India win the lone match where he batted in.
Consequently, he was called up to the Test squad for the home series against England and away series in the West Indies, at Ganguly's expense. But he was not picked for any Test.
A subsequent slump in form ensured his exit from the team and he didn't make a return to competitive action till a good show at the inaugural Indian Premier League in 2008 convinced the selectors to pick him -- to replace an injured Sachin Tendulkar -- for a triangular tournament in Bangladesh.
Raina justified the selectors' confidence in the subsequent Asia Cup, scoring his maiden one-day hundred against Hong Kong and following it up with scores of 84 and 116 against Pakistan and Bangladesh respectively, in the next two matches.
Since then, he has retained his place in the one-day and T20 squads.
Drafted into the Test squad for South Africa's tour of India earlier this year, Raina never made it to the final XI.
However, his good run with the bat continued.
In IPL III, Raina was the third-highest run-scorer and won the man-of-the-match in the final for helping the Chennai Super Kings beat the Mumbai Indians.
He followed it up with a 60-ball 101 against South Africa in the subsequent ICC World Twenty20 in the Caribbean, thereby becoming the third player to score a century in Twenty20 internationals, after Chris Gayle and Brendon McCullum.
When India toured Zimbabwe in June this year, Raina was handed the captaincy. Under his leadership, India won just one of the four matches in the tri-series, failing to reach the final but rebounded by winning both the T20 internationals.
By then Raina had made enough impact to command a place in the Test squad.
An injury to Yuvraj Singh ensured him just that, in the second Test against Sri Lanka. And when Raina took the field at the SSC Ground on Monday, he broke the record of most one-day appearances before a Test debut. His 98 ODI appearances is four more than the earlier record by Australian Andrew Symonds.
'If I get a chance, I will do my very best,' he vowed ahead of the match.
And he kept his word.
His century not also ensured him a perfect debut but also made him party to other landmarks.
Besides joining the exclusive club of centurions for India on debut, Raina also became only the third Indian player to figure in a 200-plus partnership in his first Test.
His fifth-wicket stand with Tendulkar made him follow in the footsteps of Surinder Amarnath -- against New Zealand at Auckland in 1976 -- and Virender Sehwag against South Africa at Bloemfontein in 2001.
Raina also became only the second Indian left-hander to score a century on debut after Sourav Ganguly had achieved the feat against England at Lord's in 1996.
And most importantly, the knock ensured that his endless wait for a Test spot had a happy ending.
Or shall we say, a new beginning.
Test hundreds for India on debut
Player
Score
Versus
Venue
Year
Lala Amarnath+
118
England
Mumbai
1933
R H Shodhan
110
Pakistan
Kolkata
1952
A G Kripal Singh
100*
New Zealand
Hyderabad
1955
Abbas Ali Baig+
112
England
Manchester
1959
Hanumant Singh
105
England
New Delhi
1964
G Viswanath+
137
Australia
Kanpur
1969
Surinder Amarnath
124
New Zealand
Auckland
1976
Mohammad Azharuddin
110
England
Kolkata
1984
Pravin Amre
103
South Africa
Durban
1992
Sourav Ganguly
131
England
Lord's
1996
Virender Sehwag
105
South Africa
Bloemfontein
2001
Suresh Raina
120
Sri Lanka
Colombo
2010
+ They also scored hundreds on Test debut. In these cases the hundreds came in the second innings.