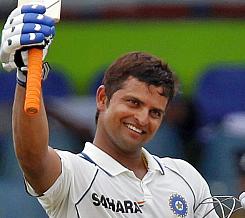 Suresh Raina became the ninth Indian batsman to score a hundred in the first innings of his debut Test. He joins 11 others who scored centuries on their Test debut.
Raina, who replaced Yuvraj Singh [ Images ] in the team, drove a length ball, outside the off-stump straight past Dammika Prasad to complete the ton, on Day 4 of the second Test against Sri Lanka [ Images ] in Colombo on Thursday.
He is 59th in the overall list of centurions on debut.
Three other India [ Images ]ns -- Lala Amarnath, Abbas Ali Baig and Gundappa Viswanath -- also scored centuries on debut but did so in the second innings of the Test - taking the tally of debut centurions for India to 12.
Raina, who is an integral part of India's One-day team, has played 98 ODIs, and has three centuries in the kitty.
He was involved in a crucial 256-run partnership with Sachin Tendulkar [ Images ] to bail India out of a precarious situation in the Test.
Raina was eventually out for 120, when he chipped an easy catch to Kumar Sangakkara [ Images ] off Ajantha Mendis [ Images ]. In his 228-ball knock, the southpaw hit 12 boundaries and two sixes.
Here is the list Indian centurions in their debut innings:
| | | | | |
| --- | --- | --- | --- | --- |
| Batsman | Runs | VS | Venue | Season |
| SC Ganguly | 131 | Eng | Lord's | 1996 |
| S Amarnath | 124 | NZ | Auckland | 1975-76 |
| SK Raina | 120 | SL | Colombo SSC | 2010 |
| DH Shodhan | 110 | Pak | Kolkata [ Images ] | 1952-53 |
| M Azharuddin | 110 | Eng | Kolkata | 1984-85 |
| Hanumant Singh | 105 | Eng | Delhi [ Images ] | 1963-64 |
| V Sehwag | 105 | SA | Bloemfontein | 2001-02 |
| PK Amre | 103 | SA | Durban | 1992-93 |
| AG Kripal Singh | 100* | NZ | Hyderabad | 1955-56 |