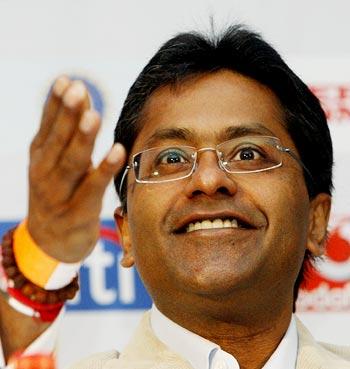 Suspended Indian Premier League chairman Lalit Modi on Thursday asked the Board of Control for Cricket in India (BCCI) to provide him attendance sheet of the recent disciplinary committee meetings held in Mumbai and Delhi to ascertain whether the presence of BCCI secretary N Srinivasan had been recorded in it.
"We may clearly inform you that (apart from being entitled to a copy of the same) we are particularly interested in ascertaining whether the 'attendance sheet' records the presence of Mr N Srinivasan, secretary BCCI, who was present at the hearing before the Disciplinary Committee," Modi said in a letter addressed to BCCI Chief Administration Officer Ratnakar Shetty.
"Mr Srinivasan was present at the venue; sat in a corner of the room; heard the arguments advanced on behalf of our client; and on several occasions came to the main table to instruct Ratnakar Shetty, the representative of BCCI," the letter said.
"We refer to 1) the e mail dated 28th July, 2010 (5.26 pm) addressed by Mr Mehmood Abdi (the Constituted Attorney of our client Mr Lalit K Modi) requesting for the 'attendance sheet' of hearing dated 27th July, 2010 before the Disciplinary Committee; 2) your reply e-mail dated 28th July, 2010 (5.47 pm) stating 'I will forward your request for attendance at DC meeting to Mr Arun Jaitley and get back to you at the earliest," it added.
Modi wondered as to why BCCI had referred his earlier request for the attendance sheet to Arun Jaitley, who is a part of the three-member panel constituted by the Board to conduct the proceedings against him.
"We are at a loss to understand why a request for a copy of the 'attendance sheet' (which is a document which all persons who attended or were present at the hearing before the Disciplinary Committee are required to sign) is required to be referred to Mr Jaitley. We are also baffled at why the BCCI should be hesitant in acceding to such a simple request.
"The request made was straightforward and did not require the involvement of the Disciplinary Committee or any of its members," the letter said.
"It would appear that the BCCI has reasons for not supplying the same. If that be so, the BCCI should say so clearly and not attempt to involve the Disciplinary Committee or its members in its 'stalling operation'. The Disciplinary Committee is a body discharging an adjudicatory role and function and involving the Disciplinary Committee and/or its member was both improper and unnecessary," it added.