With the T20 frenzy catching up fast, Australia may have separate Test and Twenty20 teams in the near future, feels Cricket Australia chief executive James Sutherland.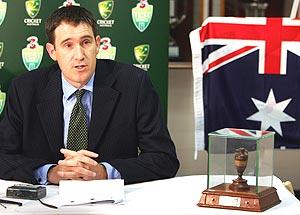 In a keynote speech at a major CA seminar on Tuesday, Sutherland said the day is not far when Australia will have specialist players for both Twenty20 and Test playing simultaneously in opposite sides of the world.
"While hosting Tests in Melbourne, Australia could have its Twenty20 team touring somewhere else," Sutherland was quoted as saying in The Australian.
"It is difficult not to see a generation of players coming through with an eye to becoming Twenty20 specialists. As more Twenty20 cricket is played there are clearly opportunities for players to choose to be specialists.
"Taking it through to its natural extension, if you have a specialist team then why can't you have a specialist Twenty20 team and a specialist Test team (playing) at the same time?" he asked.
Sutherland also cited the example of rugby. "In rugby union, for example, the ARU has a sevens team and a Wallabies team," he said.
The advent of the lucrative Indian Premier League and Australia's state-based Big Bash competition have triggered a Twenty20 revolution, giving players the chance to choose the shortest version of the game as their core area of competence.
Examples of Twenty20 specialists have also been galore, with Australia's team in the recent T20 World Cup in the West Indies having three specialist players in opener David Warner, new-ball bowlers Shaun Tait and Dirk Nannes.
Among others, Australia's T20 vice-captain Cameron White and his Victorian team-mate David Hussey play T20 and One-Day cricket only.