Leaving no stone unturned in his preparation for next month's Sri Lanka [ Images ] tour, stylish batsman VVS Laxman [ Images ] is practising on gravel wickets to finetune his technique against spinners.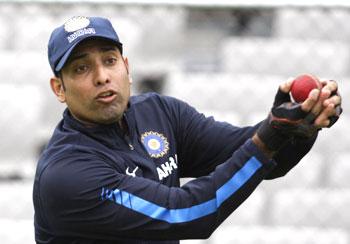 The elegant stroke player said playing spinners well would be crucial to the team's success in Sri Lanka and he was not taking any chance.
"For the last two weeks, I am practising hard for the coming Sri Lanka tour. I am playing on the gravel pitches to finetune my technique as Sri Lanka has some quality spinners in Ajantha Mendis [ Images ] and Muttiah Muralitharan [ Images ]," said the middle order batsman on Wednesday.
"They also have some other good slow bowlers like Rangana Herath [ Images ]. I want to do well and start the season on a high," he said.
"Two years back when we toured Sri Lanka we lost the series 1-2. This time we want to turn the things on them," said the right-hander, who was in the city on a promotional tour. India [ Images ] will tour Sri Lanka in July-August for a three-match Test series and a triangular one-day series with New Zealand [ Images ] as the third team.
The first Test match will begin on July 10 at Galle while the remaining two are scheduled in Colombo and Dambulla on July 18-22 and July 26-30 respectively.
It is, however, Australia [ Images ] which brings out the best in Laxman and the elegant right-hander said he was waiting to strut his stuff against the old enemies when the Aussies tour India later this year.
"Australia will tour India in winter and it's always a great pleasure to host them," Laxman said.
"Australia is a highly competitive side in the Test cricket and I hope to present a tough challenge to them. We want to repeat our earlier performances on home soil where we have always won against them," he said.
Dwelling on the second-string Indian team playing a tri-series in Zimbabwe, Laxman said these are the players who would take over from the seniors.
"The team in Zimbabwe is a very talented one and the boys have that killer instinct in them. The match against Sri Lanka was testimony of this fact where they crushed them in a comprehensive manner. These youngsters are the future of the country," Laxman said.
Football World Cup fever is fast catching on Laxman and he predicted Brazil [ Images ] would lift the trophy in South Africa [ Images ].
"Brazil is my favourite side as they have a flamboyant bunch of hugely talented players. I am a big fan of all the players and hope they will lift the cup," Laxman said.