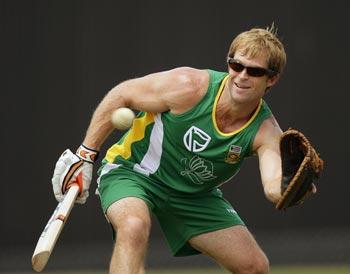 Retired South African cricket ace Jonty Rhodes recently donated some of his memorabilia to an Indian civil society organisation working to help raise funds for local charities in Johannesburg.
Rhodes, who was Mumbai Indians' fielding coach in the just-concluded Indian Premier League Season 3, made a surprise personal appearance last month at an event organised by the Johannesburg Indian Women's Association (JIWA) and gifted some of his memorabilia for charity auction.
JIWA is an organisation of expatriate Indian women led by Sangeeta Doraiswami, wife of Consul-General Vikram Doraiswami. It has successfully roped in support from many individuals and corporates to help bring about a change in society.
"This event is an opportunity for the Indian ladies association here to try and make a difference in the society that has become our home away from India," Doraiswami said.
"Our group has been in existence since 2005, but primarily serving as a social entity. We are now working to redefine our identity so as to be able to contribute something to the society in which we live.
"In that, we see ourselves contributing to the image and understanding of India and Indians in South Africa, as a community that gives back to those in need," she added.
The funds raised will be used to help three selected charitable organisations -- the Ebenezer Home, Daily Bread, and Sports Heroes Walk against AIDS.