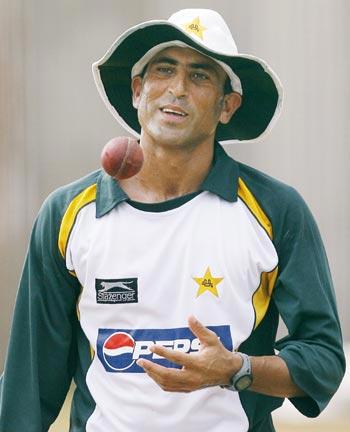 Former Pakistan captain Younis Khan on Saturday said he feels vindicated after the lifting of the indefinite ban on him and is even open to captaining the side again if the opportunity comes.
Younis, who is presently in London playing for English county side Surrey, said he was happy with the decision of the appeals' tribunal of the Pakistan Cricket Board.
"I am very relieved, since this ban was imposed on me, I was disturbed and under pressure. No player likes to be told he is a troublemaker or indisciplined," Younis said.
"I am glad, the ban is now gone and my stand has been vindicated. I have said all along that I am innocent," he said.
On the issue of captaincy, Younis said he had no issues with it and just wanted to play for Pakistan.
"It is not that I have completely ruled out captaining the team again., If ever such a opportunity comes I will consider it," he added.
Younis said he was unfazed at not being picked in the Asia Cup squad that was announced on Thursday since resolving the ban issue was more important for him.
"I am always available for Pakistan and whenever the selectors want me I will be there for the team," Younis said.
The former captain, who has played 63 Tests and 202 One-Dayers and also led Pakistan to the Twenty20 World Cup title last year in England, said he was keen to revive his career.
"I am presently playing in England to prepare for the coming tour. I am now used to the conditions here and ready if the selectors pick me for the Test and One-Day series," Younis stated.
The 32-year old was among seven players who were either banned or fined in March by the PCB for indiscipline on the troubled tour of Australia.
Younis's lawyer Ahmed Qayyum said in Lahore that his client had taken a principled stand on the ban and won his case.
"The thing is that the appeals judge removed the ban without any conditions. He didn't even impose a fine on Younis which shows his stand was correct," he said.