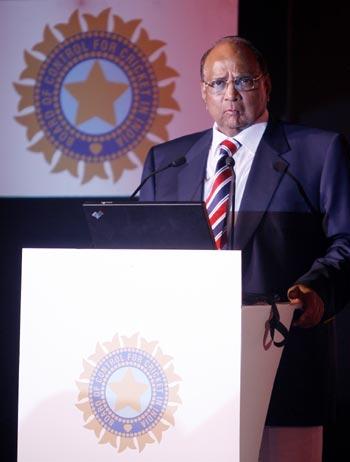 Royal Challengers Bangalore owner Vijay Mallya on Monday rubbished reports of Agriculture minister Sharad Pawar having a stake in his franchise, calling them "absurd".
After Pawar reportedly admitted to having 0.05 per cent shares in United Breweries Group, the owner of RCB, Mallya ridiculed suggestions that having stake in his company amounted to being a part owner of the Indian Premier League team.
"Mr Pawar is just being transparent because then the media would say he has stake in another IPL team," said Mallya, referring to recent reports of Pawar's involvement in a failed bid of the Pune IPL team.
"This is pushing the limits of absurdity," he said.
Pawar and his parliamentarian daughter Supriya Sule are in the dock for not revealing their over 16 per cent equity in a Pune-based real estate firm which made an unsuccessful bid for the Pune IPL team.
Mallya felt a mountain is being made out of a molehill.
"If we follow this logic then every shareholder of United Breweries would be the owner of RCB because the company belongs to the shareholders. What's wrong with that?" he asked.
"To say that he has a clandestine stake is downright absurd," he said.