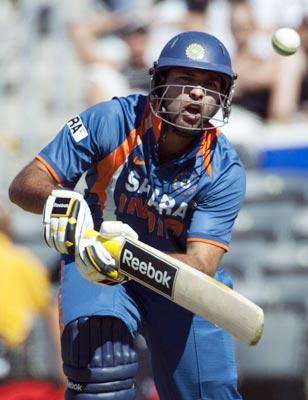 Yograj Singh is upset over his son Yuvraj being axed from the Indian team for the upcoming Asia Cup in Sri Lanka. Correspondents from television and print media got a taste of his ire when they landed up at his residence in Chandigarh on Monday evening for his reaction on the non-inclusion of the flambouyant all-rounder in the side.
The former India cricketer -- he played one Test and six ODIs -- hurled the choicest of Punjabi abuses at the journos and threatened to beat them up, forcing them to retreat.
Former India captian Bishan Singh Bedi felt both Yograj and Yuvraj need not be upset. Instead, he said, they should take the setback as a welcome break after the hectic schedule Indian players have been through over the last few months.
Speaking to rediff.com on Tuesday, Bedi said: "My advice is that Yuvraj should concentrate and improve his batting rather then waste time brooding over what has happened. In all spheres of life there are ups and downs. It can happen to anyone. I am confident he will be able to make a comeback, because he has age on his side."
The spin legend added that it is good that Sachin Tendulkar opted for a break.
"Sachin had asked the BCCI [Board of Control for Cricket in India] that he should be allowed to spend time with his children before he embarks on yet another tour. He got what he had asked for."
Former opening batsman Chetan Chauhan too concurred with Bedi, saying Yuvraj should polish his batting.
"Over 7000 runs in one-day cricket under his belt… this remarkable batsman has the ability to come back.
"Look at Mohinder Amarnath; he made several exits before making yet another comeback and was the key bowler-cum-batsman at the 1983 World Cup, when Kapil Dev's daredevils beat the mighty West Indies, led by the great Clive Llyod, and lifted the Cup at Lord's, the Mecca of cricket," said Chauhan.
Bedi was of the view that Parthiv Patel should have been included in the squad, as his batting has improved.
"When he was included in the Indian team, he did not deserve to be there. Now, when he deserves it, his claims have been overlooked by the selectors," said Bedi.
He was also critical about the inclusion of some of the players in the squad for the Asia Cup, saying they are fit only for Twenty20 and not the 50-over format.
"Just because a player scores runs in one-day games it does not mean that he should be an automatic choice for the Test team as well. Test cricket is another game altogether. The same applies to ODIs," Bedi added.