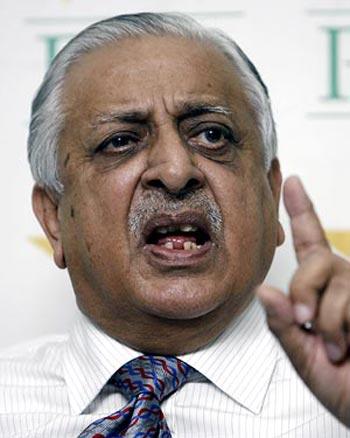 Suspecting his role in the recent leak of the probe committee's video recordings, PCB chairman Ejaz Butt has started sidelining chief operating officer Wasim Bari and has nominated Zakir Khan to attend ICC Chief Executive Committee meeting.
Bari has represented Pakistan in the committee meetings in the last one year.
"Till recently Bari was Butt's most trusted man and in a matter of days he has been stripped of powers. Butt has conveyed his mood to Bari by nominating Zakir Khan, head of international cricket affairs, to attend the ICC chief executive's meeting due soon," one source said.
"Recently Butt also stripped Bari of the powers to head the HR department which is a clear indication life ahead for Bari in the board is going to be tough," the source added.
Also in the firing line is coach Waqar Younis, who has been conveyed that he should not question the Board's decisions.
Waqar recently made his displeasure at the appointment of Aaqib Javed as assistant coach and also questioned wisdom of announcing 35 probables for the Asia Cup and tour to England.
On Wednesday during a media conference, when asked about his views on Aaqib's appointment, Waqar was more diplomatic.
"We are both professionals and we have been friends. He has his job to do and I have mine. There are always minor differences that happens but both of us are working in one direction," the former Pakistan captain said.
The source said that Waqar had been told to focus on his job and not give unnecessary statements to the media.
Recently Butt did try to downplay any problems with Waqar.
"I hope Younis would serve for a long time. As long as the team gives the desired results under his supervision, he'll remain the coach of Pakistan," Butt said.
Sources said that Butt was virtually running the board like a king and listened to no one's advise except his close friend Yawar Saeed, the manager of the national team.
The majority of the board staff was unhappy and uneasy working under Butt but because of their jobs preferred to keep quiet and pray for a change of guard soon.