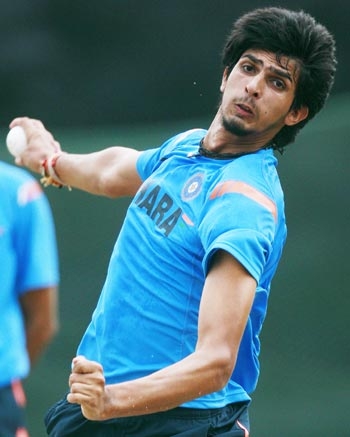 Having made his international debut at the tender age of 18, Ishant Sharma was destined for great things. His bowling made quite an impact during the Test series in Australia in 2008, as he time and again got the better of Australia's captain and the world's best batsman Ricky Ponting with his pace and bounce.
But all those dreams came down crashing and soon even Ishant realised that good things don't last forever.
Things started taking the slide as his pace kept going down and runs started to leak in plenty. Within a year's time Ishant had gone from being the future of Indian fast bowling to another 'not-worth-the-hype' player.
Ishant admitted that after getting off to an incredible start in international cricket, the pressures of maintaining that level of consistency have taken its toll on him.
"That is what even I believe that if you enjoy your cricket it is good for you. I started putting pressure on myself in recent years, but before that I used to enjoy myself and never used to worry about getting dropped or anything.
"I think I need to start doing that instead of putting pressure on myself," Ishant told rediff.com.
So where did it go wrong?
"Things really started going from bad for me at the Twenty20 World Cup (in 2009) and after that we went to the West Indies where I got dropped. I did not get much opportunity after that and I started putting pressure on myself that I need to perform better," he added.
Ishant's fall from grace started in limited-overs cricket as he went for runs. Soon his Test match form also got affected by it.
Since making his debut in 2007, he took 27 wickets in 20 ODIs at an economy rate of 5.34 before the slide started. In 2009, the runs started to flow off Ishant's bowling as he claimed 22 wickets in 15 games at an economy of 6.16. Immediately the selectors decided to leave him out.
Ishant admitted that the rigorous pace of ODIs is a big deterrent to pace bowlers.
"ODI cricket is too fast. In Test matches, you get time to make a comeback. In ODIs, you need to think fast on which areas you are going to bowl and how you plan to bowl against a particular batsman. In Tests, you get more chances as you can come back in the second or third spell but in ODIs you don't get that time as you start by bowling in the Powerplay and end up bowling in the slog overs," the 21-year-old said.
This year, Ishant made a brief comeback against South Africa in the Kolkata Test before being dropped again, while he didn't make it to the ODI squad at all.
What was even more hurting was that he was not even picked for the India A tour of England or in India's second string side for the tri-series in Zimbabwe.
He admitted it is tough to motivate himself when nothing is working for him.
"It is really hard to motivate myself in such tough times but my family, friends and senior players have helped me a lot. I talk a lot to my team-mates like Virender Sehwag, Gautam Gambhir and Yuvraj Singh and they all keep telling me that I have talent to do well in international cricket."
Asked whether the selectors informed him what is wrong with his bowling, Ishant just shrugged his shoulders and replied: "No."
"Till today I have not spoken to any selector," he added, clearly underlining that so many players tried, tested and dumped during the last few years are still unclear why they are out of favour.
The fast bowler thanked former Pakistan pace legend Wasim Akram for helping him with a few tips during IPL-3.
"Wasim Sir worked a lot on my bowling and he taught me how to bowl outswingers, which I had never bowled before in my career. He also told me to be a good thinking fast bowler, something I lacked; I think all that has helped me a lot," he said.
Asked how he would work on his bowling after not being picked in the Indian team and also denied permission to play in county cricket, Ishant replied: "I will try and get some match practice by playing in local matches and for my company, which will also help me improve my fitness. I will also work hard during the practice sessions and try to improve my bowling."