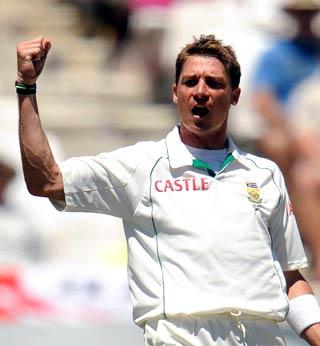 South Africa took control of the first Test against West Indies on Saturday after pacemen Dale Steyn, who reached 200 Test wickets, and Morne Morkel had skittled the hosts for 102 on the third day.
South Africa, with a first innings lead of 250, declined to enforce the follow-on and extended their lead by reaching 155 for two at the close at the Queens Park Oval in Trinidad.
Captain Graeme Smith was on 79 and Jacques Kallis on 40.
West Indies had no answer to the ferocious short-pitch barrage from Steyn, who took five for 29 and Morkel who returned four for 19.
Morkel made the initial inroads, dismissing the first three batsmen to leave the hosts reeling at 12 for three.
Guyanese duo Narsingh Deonarine and Shivnarine Chanderpaul then posted a 59-run fourth wicket stand to suspend the slide but immediately after lunch Steyn went on a five-wicket rampage.
He uprooted the off stumps of Deonarine, Sulieman Benn and Ravi Rampaul, worked Chanderpaul over with a vicious short delivery then trapped Shane Shillingford lbw for a first ball duck.
Dwayne Bravo's (1) dismissal typified the spineless West Indies batting as he surrendered his wicket when he took his eyes off a Morkel short ball which clipped his gloves on the way through to wicketkeeper Mark Boucher.
Scoreboard:
South Africa 1st innings: 352 (AB de Villiers 68, M.Boucher 69, A.Prince 57, S.Benn 5-120)
West Indies first innings:
C.Gayle b Morkel 6
T.Dowlin c Smith b Morkel 4
B.Nash c Boucher b Morkel 1
S.Chanderpaul c Boucher b Steyn 26
N.Deonarine b Steyn 29
D.Bravo c Boucher b Morkel 1
D.Ramdin not out 25
S.Shillingford lbw b Steyn 0
S.Benn b Steyn 0
R.Rampaul b Steyn 0
N.Pascal c Petersen b Kallis 2
Extras (nb-1, w-2, b-2, lb-3) 8
Total (all out) 102
Fall of wickets: 1-7 2-9 3-12 4-71 5-72 6-72 7-72 8-75 9-75
Bowling: D.Steyn 14-5-29-5, M.Morkel 13-7-19-4, L.Tsotsobe 8-0-18-0, P.Harris 6-1-25-0, J. Kallis 6.1-2-6-1
South Africa 2nd innings:
G.Smith not out 79
A.Petersen lbw b Benn 22
H.Amla c Deonarine b Shillingford 5
J.Kallis not out 40
Extras (b-3, lb-1, nb-5) 9
Total (for 2 wickets) 155
Fall of wickets: 1-56 2-79
Bowling: R.Rampaul 6-2-21-0, (nb-1), N.Pascal 6-1-27-0, S.Benn 15.3-2-46-1, S.Shillingford 12-0-48-1, D.Bravo 4-1-9-0.