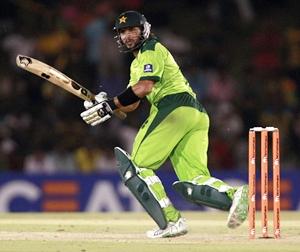 Captain Shahid Afridi smashed a blistering 60-ball 124, his second century in the tournament, to steer Pakistan to a resounding 139-run victory over Bangladesh in an inconsequential Asia Cup match in Dambull on Monday.
Powered by Afridi's blitzkrieg and useful half-centuries from Imran Farhat (66), Shahzaib Hasan (50) and Umar Akmal (50), Pakistan posted an intimidating 385 for 7, their highest score in ODIs, after electing to bat.
The target being too huge for them, Bangladesh settled for batting practice and put up a listless 246 from their 50 overs, at the Rangiri International stadium.
Juanid Siddique, who fell three runs short of what would have been a maiden hundred, and Imrul Kayes raised 160 runs for the second wicket, batting as if they were in a Test-match situation.
Even the 100-odd spectators who had come to watch the inconsequential tie left the stands when the duo was at the crease.
The time spent at the wicket would have certainly pumped up their confidence, but their dour display was not a good advertisement for the 50-over format, which has already lost its appeal.
Siddique struck six fours and two sixes during his 144-ball essay while Kayes, who took 24 balls to get off the mark, consumed 110 balls for his 66.
For Pakistan, Shoaib Akhtar, Mohammad Asif, Afridi and Imran Farhat took a wicket each.
Both sides are out of the tournament while India and Sri Lanka will play in the final on June 24.
Earlier, Afridi, who was involved in a 137-run association for the fifth wicket with Umar Akmal (50), struck 17 fours and four sixes to help Pakistan raise a record total.
Pakistan's highest total in one-day international cricket was also the highest at the venue, bettering Sri Lanka's 312 for four against Bangladesh last week.
Building on the sizzling 81-run start provided by Shahzaib Hasan (50) and Imran Farhat (66), Afridi initially played himself in before unleashing an array of strokes which drove the Bangladesh attack to despair.
He was merciless at the square, driving, cutting and pulling with panache.
Left-arm spinner Adbur Razzak was the lone Bangladesh bowler to command respect from the 30-year-old, who carted the rest of the attack to all parts of the park during his imperious essay.
Afridi cleared the ropes with effortless ease while racing to his sixth ODI hundred in just 54 balls, the sixth fastest in history. He also holds the record for fastest ODI hundred, made in 37 balls against Sri Lanka at Nairobi.
During the course of his innings, Afridi also claimed the record for the most number of sixes (272) hit by a batsman, ahead of Sanath Jayasuriya (270), Sourav Ganguly (190), Sachin Tendulkar (185) and Chris Gayle (165).
Afridi took his tournament aggregate to 265 runs, following his 109 and 32 against Sri Lanka and India. India's Gautam Gambhir is a distant second with 165, though only in two games.
With an eye on enriching their newcomers with international experience, Pakistan sent their greenhorns up the order.
Asked to open the batting Imran Farhat, Shahzaib grabbed the opportunity with both hands to make a belligerent 38-ball 50, beginning his innings with a cover-driven six off Mashrafe Mortaza, who conceded 47 runs in five overs.
But Umar Amin, victim of a dubious run out decision when he wandered from the crease, and Asad Shafiq, stumped by Mushfiqur Rahim off Shakib Al Hasan (2 for 63), failed to cash in against an attack which lacked zip and accuracy, except for Abdur Razzak.
Shafiul Islam claimed three wickets at the expense of 95 runs.
Pakistan had lost both its previous matches in the tournament, going down to Sri Lanka and India.