India's emphatic win over Pakistan in a match whose fate was decided on the penultimate ball during the ongoing Asia Cup in Dambulla on Saturday, just showed that the men in blue were better prepared to handle the pressure which accompanies any cricket match between the two arch rivals, former Pakistan captain Wasim Akram said.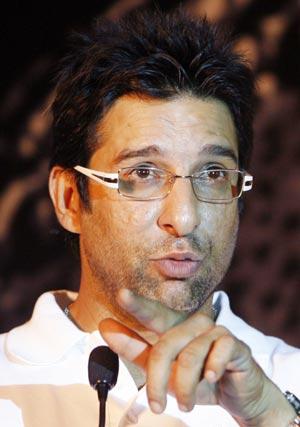 Akram said that the way India chased down the competitive total of 267 runs put up by Pakistan shows that Team India is miles ahead of Pakistan.
He said that though the green shirts batted well to put up a challenging total, Dhoni's men outclassed Afridi's young brigade in every field during the match.
Despite getting a perfect platform from the openers Salman Butt and Imran Farhat, who shared a 71-run partnership between them, the middle order failed to capitalise.
Akram, one of Pakistan's most successful captains, showered praise on Indian opener Gautam Gambhir for proving his mettle at the top on a pitch which was difficult to bat on, especially under lights.
"I think Gambhir played a superb 83-run knock on a difficult pitch. Then Dhoni came in at No 4, leading from the front. I like Dhoni as a captain. He played an important innings of 56 alongside Gambhir," The Daily Times quoted Akram, as saying.
He also praised Harbhajan Singh for taking India home and showing no signs of nerves whatsoever while facing Shoaib Akhtar.
"The off-spinner was not overawed by the situation and had no respect for Shoaib Akhtar when he hit the pacer for a six. He has time and again performed well under pressure," Akram said.
"In a nutshell, all this showed that the Indian team is miles ahead of Pakistan," he added.
Akram also raised questions over the Pakistan team management's decision to not play off spinner Saeed Ajmal in the opener against hosts Sri Lanka.
"How can you drop a guy who has won matches for you? You can't just drop him like that. It was a poor decision on the part of an experienced team management that has Waqar Younis, Shahid Afridi, Aquib Javed and Ejaz Ahmad," he said.